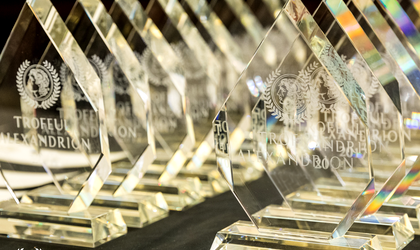 The 8th edition of the Gala, symbolically titled "The Promise", will also introduce a new concept for Romania, as it will be dedicated to the most talented young athletes. The Alexandrion Trophies Gala 2023 will be organized on April 6.
The Alexandrion Trophies Gala 2023 will introduce a new concept that will, for the first time in Romania, focus on the performance and talent of young athletes. This year's edition is dedicated to the most talented young athletes in Romania and will take place on April 6 in Bucharest. Juniors with outstanding results will be awarded, in the presence of coaches, family members, true legends of Romanian sports, and special guests.
The Alexandrion Trophies Gala 2023 is a one-of-a-kind opportunity to acknowledge and highlight the efforts and performance of young athletes. The purpose of the event is to encourage them to continue to develop their skills in their favorite sport and to promote sport and its benefits for physical and mental health and for building relationships.
Alexandrion Group and Alexandrion Foundation are aware of the essential role that sport plays in society and, over the years, through their actions, have assumed the responsibility to support it and to award its performers. Alexandrion Trophies Gala 2023 – "The Promise" reflects this commitment and the fact that both entities will continue to be involved in supporting sports.
Through this special edition, the Alexandrion Group aims to emphasize the significance of sports in developing social skills, such as communication, teamwork, and the ability to overcome obstacles in life. The event will celebrate not only performance and talent, but also values such as respect, fair play, effort, discipline, and responsibility.
Media representatives will be welcomed to the event between 18:30-19:30.
Throughout the previous 7 editions, more than 100 trophies were awarded at the Alexandrion Trophies Gala. Football, handball, tennis, swimming, canoeing, swordplay, gymnastics, wrestling or weightlifting have been among the awarded sports.