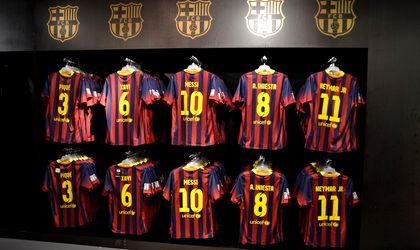 Football transfers have dominated the news ever since football was invented. From the likes of Darwen bringing in Fergus Suter and Jimmy Love "to work at the mill" but really they were being paid to play for the side.
Since then the rules changed and players were allowed to transfer from team to team where they saw fit. However, money began to get involved in the game with clubs exchanging fees for their players. Money in the game has always been a thing and you can go back to the first ever three-figure transfer fee paid by Aston Villa in 1893 for Willie Groves.
People will have been flabbergasted that £100, which would be worth £14,282.44 in today's money, and would have regarded the game as going too far. However, chairmen of clubs were starting to see that money could be made if they brought the right player in to improve the side and therefore bring money in through the gates.
Has there always been a trend in transfers?
Well just eleven years after Willie Groves, Alf Commons joined Middlesbrough to become the first four-figure British transfer again causing shock. This has happened at every major transfer milestone.
The first British six-figure transfer of Trevor Francis was a revelation and caused a real stir in 1979 but the British record had been broken 30 times before his transfer to Nottingham Forest, But this was over £500,000 more than the previous transfer. The market was open for building it as a business.
In the English Premier League, it is common ground for clubs to break their record transfer fee each summer as prices increase and clubs are looking to make more money off the fans to help pay for these transfers. With an increase in revenue and TV rights, it means the clubs can also afford these sensational prices.
Like looking for new betting offers, clubs are looking for the best way to make money and one way is through shirt sales.
Shirt sale signings
In the late 1980s, there was an increase in replica shirt sales, especially in England. England had been troubled with hooliganism throughout the country and this was a way of descaling it with fans more inclined to wear the shirt go to the match and enjoy it whereas fans turning up in Sergio Tacchini or Fred Perry looking for an alternative to just watching the match.
This then led to numbers on the backs of shirts which eventually led to names on the back as well. Fans could then get the name of their favourite player on the backs of their shirt. Clubs realised there was money to be made this way and big marquee signings became the in thing.
Sometimes the signing would fit the side and what the manager would want like for example the signing of Alan Shearer in July 1996 to Newcastle United. His £15 million transfer saw a sea of black and white stripes shirts with "Shearer 9" spread across the city. However, signings like Paul Pogba, back to Manchester United in 2016, was not the signing then manager Jose Mourinho wanted but the club saw it was commercially successful.
Both of these were world record fees at the time.
Is this trend similar across the world?
The focus has been on Britain but the world has seen the same shift. If you look at the world record transfer fees since Shearer's move to Newcastle United, there have been 11 more transfer-breaking fees and only one from an English club on the purchasing side.
Five times Real Madrid broke their own and the world transfer record fee as they enjoyed a Galactico's era, where Florentino Pérez tried to create the best team he could by throwing money at the situation, and if you are signing players like Figo, Zinedine Zidane, Kaka, Cristiano Ronaldo, and Gareth Bale you know fans will lap it up.
Other countries also experienced the boom for example Italy in the late 90s was a place of the best talent playing in the country for huge fees.
Now we are seeing PSG break all types of transfer record fees with Neymar becoming one of theirs in 2017 for the small fee of…£198,000,000 (€222 million). They also broke the record for the most expensive teenager in the world when they signed Kylian Mbappe for £163 million (€180 million) on their quest to win the Champions League.
It has become common ground to see players move for £60+ million as a big summer signing. It is becoming normal that a £30 million signing is seen as a squad player. Of all the biggest transfers in the world, 50 in total, 46 transfers have occurred in the last 10 years.
Transfers are on the up and they show no signs of slowing down. These shows that clubs as a business are thriving at the top end and transfers will only increase.
Photo: dreamstime.com