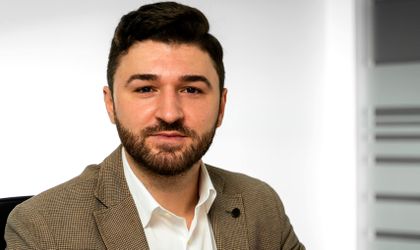 ESX, the network of sports centers and fitness clubs founded by the young entrepreneur Andrei Trofin, achieved a turnover of 4 million euros in 2022, thus marking a 400% increase compared to the previous year. In the last 18 months, the business has grown ten times, relying on a digital solution with an excellent user experience; all-in-app, ESX offers a subscription with unlimited access to approximately 500 sports centers and fitness clubs, which can be managed or canceled with a single click.
The start-up's idea and its 100% digital approach, highly appreciated by users, led to an accelerated network expansion from 200 to 450 sports centers in 80 cities in the country. So far, ESX customers have entered partner gyms 2 million times, and many have had access to nutrition information through the app. And the team of this start-up has grown in proportion to the needs of the business, currently counting 30 people, three times more than in 2020.
"We are optimistic about the future. Romanians' appetite for sports is growing and the current fiscal context will move things toward adopting a healthier and more active lifestyle. I am now referring to the fact that employers can include gym memberships in the extra-salary benefits they offer, which are exempt from taxes, within the limit of 400 euros per year. From here, I also predict the demand will triple in the next two years, particularly because we will help accelerate this growth.

We have aligned ourselves with market demands, and in 2022 we approached a new business segment, B2B, where we offer ESX subscription as a salary benefit for companies. Our mission is to combine technology with sport, offering a current digital solution to those who want a balanced lifestyle", said Andrei Trofin, CEO and founder of ESX.
For the development of the business launched in 2018, the entrepreneur Andrei Trofin relied on maintaining the simplicity of the business model and the established direction. Thus, in addition to access to fitness rooms, users can try activities such as climbing, cycling, squash, boxing, tennis, dancing, and even pole dancing. Additionally, they can access online nutrition programs or home workouts.
The complex package of services has attracted partnerships with numerous companies, including Vodafone, Cora, Romstal, HelpNet, Fan Courier, OTP Bank, Ursus, OMV or Groupama.
Optimistic plans for 2023: expanding the network and increasing the number of partners
The company's plans include the development of the application through a complex update aimed at integrating AI and Machine Learning. The app will be able to give customized advice and recommendations to maintain good health and prevent disease by analyzing the data. Also, the network is constantly expanding: by the end of 2023, the goal is 600 gyms and sports centers in 100 localities, in Romania. The estimated turnover for the current year, betting on doubling the number of subscribers, is 10 million euros, an increase of 250% compared to 2022.