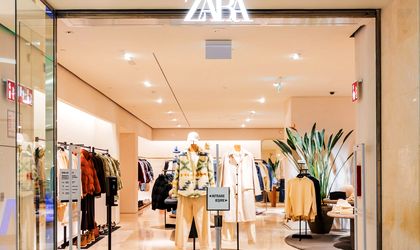 The international fashion brand ZARA presents, for the first time on the local market, with the reopening of its store in Plaza Romania, the new global concept, which proposes customers a complete and surprising shopping experience, as well as a design that combines the influences of art deco with sustainability and eco friendly elements.
The store went through an extensive refurbishing process, being reopened today.
The new concept, inaugurated in Romania, with this reopening, comes with a more refined approach to the shopping experience and with a focus on products.
Furniture complements the design, having organic shapes and neutral colors. Lighting plays a major role in staging the space and highlights the innovative concept. Also, the interior décor elements, made of wood and stone, emphasize this renewed identity. The main entrance of the store is generous, with windows decorated in harmony with the interior, offering customers the opportunity to easily identify the latest collections.
At the moment, the new ZARA concept, that can be found in the store in Plaza Romania, is available only in other flagship locations of the brand, abroad.
"We are very pleased that our partners from Inditex group have chosen Plaza Romania to implement the new emblematic global flagship concept of the brand, thus updating the design of the first Zara store opened in Romania. We believe that this fact represents for Anchor Grup another confirmation of its role as a pioneer of the industry, an important direction of our business strategy. Through this extensive renovation process, the customers Zara store in Plaza Romania will enjoy a complete shopping experience, an ultra modern design and, of course, they will discover, for the first time, the latest collections of the brand", says Affan Yildirim, General Manager, Board Member of Anchor Grup and MallDova.
Sustainability is also an integral part of inditex group's strategy, and the new concept recentlly launched in Plaza Romania reflects this direction very well. The brand sells Join Life items from biodegradable materials, such as Modal, Tencel, Lyocel, bio cotton, cashmere, linen, jute, using manufacturing processes with as little impact on the environment as possible. The brand also selectively recycles waste and gives customers the option to donate items in the Take Back container installed in all its stores.
The store in Plaza Romania was the first opened by the famous brand in Romania, in 2004, and has an area of 2081 sqm.