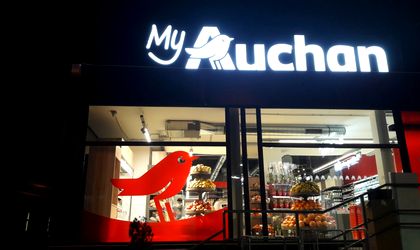 OMV Petrom and Auchan Retail Romania have announced the expansion of their partnership for the opening of MyAuchan proximity stores in Petrom gas stations. The two sides signed a Memorandum of Understanding expressing their intention to discuss the extension of the partnership, subject to final approval by the Competition Council.
The partnership between Petrom and Auchan Retail Romania was initiated in 2017 with a pilot phase in which MyAuchan proximity stores were opened in 15 Petrom stations in both urban and rural areas of Romania. This pilot phase aimed at testing the business model and evaluating the potential of the partnership by the parties.
"The results so far are encouraging and we are happy to negotiate the expansion of the partnership and have more MyAuchan proximity stores in our Petrom stations. This association aims to add more substance to the promise of the Petrom brand, with MyAuchan stores perfectly complementing Petrom's classic benefits: affordable, efficient fuels and stations anytime on the way to customers. Through this partnership, customers will be able to shop in the supermarket without worrying about prices, and the Petrom network will be able to improve consumer experience," said Radu Caprau, member of the OMV Petrom Directorate for Downstream Oil.

"This widespread cooperation is part of Auchan Retail Romania's ambition to bring our stores closer to all Romanians. The partnership with OMV Petrom, launched in 2017 through a pilot phase, has been very useful for both companies and has helped us improve our proximity offer by identifying the most appropriate range of products and services and, of course, through good prices. Through this partnership, we pursue one of our main strategic objectives: to offer our customers a unique, extraordinary shopping experience," said Ionut Ardeleanu, general manager of Auchan Retail Romania.
MyAuchan stores at Petrom stations offer a range of up to 3,000 products, from premium foods, including ready-made products, fresh coffee, fresh produce (fruit and vegetables, bakery, dairy) and other groceries to non-food products -food, including cosmetics, baby products and car accessories. The variety of the range depends on the size of the Petrom station.