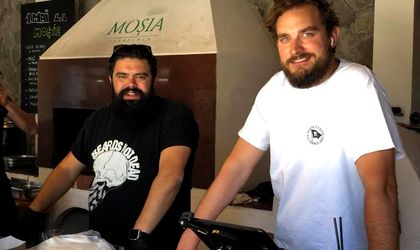 Mosia Corbeanca, the food brand that is mostly known for different types of meat cooked, has launched a new brand: Fezandate de Mosie. The products created under this brand are the first of their kind to enter the retail market in Romania. 
The Fezandate de Mosie brand comprises five products: chicken breast, chicken thighs, pork loin, and pork neck cooked through the sous vide method, but also smoked and roasted pork ribs, one of the most appreciated dishes at Mosia Corbeanca. The meat used for these products is exclusively sourced from Romanian farms and is carefully selected by experienced chefs to obtain a high quality final product.
"For the launch of the new products we made an investment of approximately 40.000 euro which we used for equipment, production space, packaging and personnel. With these resources, we estimate a production capacity of 60.000 units per month, all of them prepared in a cloud kitchen based in the Romexpo area", says Bogdan Doltu, co-founder and co-owner of Mosia Corbeanca.
Fezandate de Mosie is the first brand to enter the retail market with a product range based on sous vide products. The meat is kept in a salt bath, after which it is cut and vacuumed, in order to ensure an extended shelf life. After that, the packets are introduced in a warm bath, which is kept at a precise and constant temperature by the sous vide machine. The temperature is lower than in the case of conventional cooking, and the cooking time is longer – by doing so, the meat is cooked enough so that is safe for consumption, while also not losing its nutritional value. Afterwards, the meat is quickly cooled in order to stop the cooking process. Once cooled, the vacuumed pack is set in a box and is ready for delivery.
The ribs, the only product in this range that is not cooked through the sous vide method, are prepared in the texan smoker which was especially built for Mosia Corbeanca. Afterwards, they are roasted in the oven, quickly cooled, vacuum packed, set in boxes and shipped. 
"We have especially arranged the space in Romexpo for the production of Fezandate, with each room being designated to a preparation stage, so we can be absolutely sure that the cooked products don't make contact with the raw materials and to eliminate any risk of cross-contamination. It was a complex and lengthy process, but we are happy with the results", states Călin Cîndea, co-founder and co-owner of Mosia Corbeanca.
In addition, besides all sanitary measures related to the cooking process, a series of additional safety practices have been implemented: a number of procedures based on HACCP rules (a series of rules on Hazard Analysis and Control of Critical Points), but also all the protection measures against COVID-19: wearing a mask, frequent disinfection of surfaces, constant testing of personnel. 
Starting with May, the entire product range is available in 34 Mega Image locations in Bucharest and Cluj-Napoca (in the ready meal or refrigerated meat sections), on the Glovo, Foodpanda, Bolt Food, and Tazz delivery apps, and on the website of Mosia Corbeanca, mosiacorbeanca.ro, with delivery in Ilfov or pickup from the Corbeanca and Romexpo locations. 
Both Mosia Corbeanca and Fezandate de Mosie are projects created and developed by Bogdan Doltu and Călin Cîndea, founders and owners. Bogdan began his career by working in BTL, in the event management domain. Afterwards, he took to entrepreneurship and he became one of the Impact Hub co-founders, one of the first coworking spaces in Romania. His passion for gastronomy and entrepreneurship led to Moșia Corbeanca and the launch of Maidan Events, the catering division. He has also been involved in organising festivals and conferences such as BurgerFest, Bucharest Craft Beer Festival, Whisky Fest, TEDx Eroilor Cluj-Napoca. Călin has 10 years of corporate experience in marketing, research and product management. In that time, he travelled the world, uncovering local communities and their gastronomy.