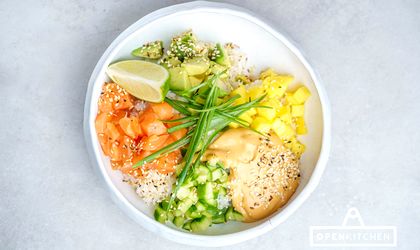 People use many different terms – dark kitchens, ghost kitchens, cloud kitchens or virtual kitchens –to describe the same foodservice purpose: fulfilling orders quickly to get them out for delivery, in places where customers can't dine in or pick up their orders. This hospitality trend has reached Romania too, where the first restaurant gathering has been established in response to this pandemic year, dominated by the delivery-only concept: OpenKitchen, a virtual platform allowing places like Camionetta, Mamizza, Furgoneta Street Chefs, and Nori Yakitori to sell more food exclusively through delivery.
By Oana Vasiliu
Every business in the food and beverage industry undoubtedly felt the effects of the lockdown and also suffered an unforeseen drop in demand throughout the pandemic period, as customers have been adapting to this new form of living.
Although not necessarily new in the hospitality industry, the dark kitchen concept refers to delivery-only kitchens that work exclusively through aggregator apps and similar platforms. Interest in these types of kitchens associated with food delivery platforms has grown amid the coronavirus crisis, as hospitality companies looked at new ways of delivering products and services in order to survive on the market during this period.
"When the lockdown first started and all the restaurants were closed, the only way for them to survive was to collaborate with delivery platforms, with the latter registering a huge increase in orders. We realised that a lot of restaurants, even with the extra delivery orders, were still not using their kitchens and staff at the same levels as they had before the pandemic. It was clear then that there was an opportunity for them to increase their revenues by leveraging the growing consumer demand for food delivery," OpenKitchen co-founder Andrei Gheorghe explained for Business Review. Specialists say that this modern concept of dark kitchens offers great expansion opportunities for food delivery without the costs involved in opening a traditional restaurant. Adding an online marketing campaign, dark kitchens could enable many more in the food & beverage industry to successfully expand into the online world.
The Romanian OpenKitchen initiative operates on the same principles: "OpenKitchen brands are a turnkey solution for getting extra revenue from day one with zero investment – no franchise fee, no marketing costs, no testing time wasted. We've had a lot of interest from restaurants and even hotel chains that are not currently fully using their kitchens."
Worldwide, according to a study conducted by Euromonitor, dark kitchens could become a USD 1 trillion business by 2030. In 2020, the firm estimated that the US had 1,500 of these ghost kitchens, ahead of the UK's 750 but behind China's 7,500 and India's 3,500. So far, Romania has only 4 restaurants officially known as dark kitchens.
"We plan to open more than 30 locations in Bucharest alone this year and we estimate that a restaurant operating one of our brands can make an extra revenue of EUR 400-1,200/month, and that is after paying our commission, which includes all delivery fees, marketing and social media, staff training, as well as the OpenKitchen app integrating all available delivery platforms in one easy-to-use interface," Andrei Gheorghe added.