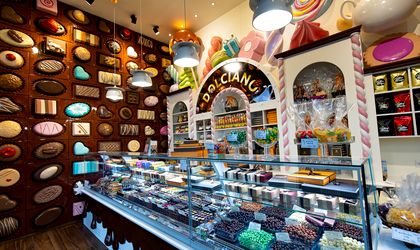 A new supermarket format by Auchan, with low prices every day * The first Sinsay store in Iași * 29 operators, mostly local and national entrepreneurs * Park and corporate and private events hall * 137 parking places, bike parking spaces and electric vehicle charging stations * Works are also underway for Family Market Bucium, set to be completed this autumn * Both projects add up to an investment upwards of 23 million Euro.
Specialized in complex urban regeneration projects, IULIUS company diversified its portfolio and opened today, the 14th of July 2022, Family Market Miroslava, its first convenience retail project launched to address the needs of booming communities in the metropolitan area of Iași. Family Market was created in partnership with the Miroslava Town Hall, being located in the center of the commune. Miroslava is one of the fastest growing residential areas in Iași County, which has also seen accelerated economic development in recent years.
Family Market Miroslava is the most complex retail development in the commune, created following an investment of approximately 12 million Euro. The project caters to a trade area comprising the approximately 40,000 residents of Miroslava Commune, plus another 100,000 residents from neighboring communes located less than 20 minutes away. As of the 14th of July, the commune residents and nearby locals can enjoy easy and convenient access to everyday use products and services, that will make their lives easier and help them save time.
"Over the last 20 years, we focused on creating major urban regeneration projects in larger Romanian cities. Today we are excited to unveil to the public the new concept by IULIUS, who will be a partner for growing communities. Miroslava Commune has experienced a solid development in recent years owing to the local administration and the investments drawn to this area, thus creating a strong community that now needs basic services located close to home. The mix of stores and facilities we opened today was customized to match the residents' expectations, to make their lives easier and more beautiful and to offer them more quality time with their loved ones and reducing the number of trips to the city. Family Market is also a platform that supports and promotes local entrepreneurs and producers, who form the majority in this project and who will offer high quality local products," said Radu Pârlea, the manager of Family Market.
 —
"We are glad to open Family Market Miroslava, a modern complex with many facilities designed both for the citizens in the commune, and the ones just passing through. We would like to thank IULIUS Group for choosing Miroslava for its first investment outside major cities. This is one of the landmark private investments in our county and we are proud of it. Approximately one year after the building permit was issued, the center of our commune has changed for the BETTER and is MORE ATTRACTIVE. Family Market Miroslava will be a symbol for our community and serve as a meeting place for all Miroslava residents," said Dan Niță, the Mayor of Miroslava Commune.
Family Market Miroslava has a layout comprised of ground floor plus upper floor, with a leasable area of approximately 7,000 sqm, and proposes a diverse mix of services, mostly by national and local entrepreneurs and producers, such as: supermarket, grocery, butcher and meat goods, pastry & pizza shop, restaurant, confectionery, drugstore, fashion and home deco products, bookstore, hair salon, cleaner's, pet shop, coffee shop, etc.
The Family Market anchor is retailer Auchan România, a partner of IULIUS in its retail projects. In Miroslava, the retailer proposes a new supermarket format spanning on more than 2,000 sqm, with low prices every day, unique services and products that are always fresh. Clients will also have access to both Auchan store-brand products and Romanian and international brands, both in the food and non-food segments, as well as to products by local suppliers and producers. Moreover, MyCLUB Auchan members will enjoy exclusive discounts based on the loyalty card.
"The opening of Auchan Miroslava is an important moment for us, as this is the first project employing the new and larger supermarket concept that Auchan has tested and developed in recent years. Here, we greet our neighbors with low prices every day, an extensive offer of products from local producers and suppliers, including those from Iași, fresh products made in our own facilities, as well as many benefits for loyal customers, such as the free of charge tool rental services dedicated to MyCLUB Auchan members. We are also keeping our promise to contribute to a healthy and responsible lifestyle, so we developed a special isle dedicated to healthy eating, and our clients can become actively involved in environmental protection activities. We are delighted to have the opportunity to introduce this format in an innovative project developed by our longtime partner, IULIUS, and I would like to thank all those who contributed to the development of this project," said Ioana Toșa, North Region Director of Auchan Retail România.
Everything you need, within walking distance of your home
For the first time in Iași, Family Market Miroslava opened the first store of the Sinsay brand, part of the Poland-based LPP Group, a new store concept spanning on an area of 1,000 square meters and offering clothing and accessories for women, children, and men, as well as home and beauty items.
Polish discount retailer Pepco also operates one store here. The offer is complete by the following: the Meat Concept Store, Kosarom and Vascar butcher and meat goods shops, La Sibieni and La Bottega grocery stores, La Ciambella pizza and pastry shop, Blanca confectionery, Teo's Cafe, Dolciano coffee shop, Saria flower shop, Mado, Agroland (pet shop and gardening products), Praxis medical laboratory, Autopit car parts shop, Papiro stationery supplies, Lisnic Hair Studio, Omniclean dry cleaner's, Cătina naturalist shop, Inmedio, CEC Bank, Cobyul store, as well as Let's Play, a playground with games for children.
On the upper floor, Family Market Miroslava includes a facility requested by the local community, namely the "Verdi" Congress Hall brand events hall. With a refined interior design and state-of-the-art amenities, the Verdi Hall can accommodate private parties with up to 220 guests, as well as corporate events for up to 300 attendants.
Family Market also means outdoor relaxation, in the first park fitted in the commune. More than 110 tall mature trees specially imported from nurseries in Italy were planted here. The species include sycamore maple, red maple, chestnut, pyramidal European hornbeam, copper beech, Ginkgo Biloba, Magnolia Soulangeana, white mulberry, red cherry plum and lime trees. The natural landscape also includes 6,000-plus shrubs, special lawn, an artesian fountain, and pedestrian alleys. The park showcases the 'Ode to Joy' (in Romanian: Oda Bucuriei) statue by artist Vladlen Babcinețchi, the winner of the art competition organized last year by IULIUS with the support of the Iași Branch of the Romanian Visual Artists' Union. 'Ode to Joy' embodies the quintessence of the Family Market concept, symbolizing the agora where the community comes to socialize and spend quality time.
Approximately 1 million Euro went into fitting out the parking lot and infrastructure, which will facilitate access into the project. Clients are provided with 137 parking places, bike parking spaces and two charging stations for electric vehicles. Moreover, infrastructure upgrade works have been carried out to widen the adjacent street and to redesign the public transit station in the area.
Family Market Miroslava is also a relevant employer in the area, providing new jobs for 140 people.
The second Family Market to open this autumn
Companies IULIUS and Auchan România will also continue their partnership in Family Market Bucium, a project currently under construction. This one will have a leasable area of approximately 5,500 square meters and is set for completion this autumn. In a similar fashion to the project in Miroslava, Family Market Bucium will bring a mix of necessary everyday services and facilities into the center of the community, mostly by local producers, a green area fitted with trees and shrubs, 151 parking places, bike parking spaces and electric vehicle charging stations.
The total investment for the 2 Family Market projects adds up to more than 23 million Euro. The financing partner of IULIUS for these projects is CEC Bank, one of the main supporters of local entrepreneurs.
Family Market Miroslava:
Business hours: every day, 09:00 – 21:00. Auchan: every day, 07:00 – 22:00
Investment: circa 12 million Euro
Leasable area: approx. 7,000 square meters
Built area: more than 7,800 square meters
Trade area: 40,000 residents in Miroslava Commune, plus 100,000 residents in neighboring towns
Auchan Supermarket – more than 2,000 square meters, 11,000-plus products, 60-plus employees, 8 self-check-out tills
29 operators: Auchan, Sinsay, Pepco, Agroland, Meat Concept Store, La Sibieni, Kosarom, Vascar, Mado, La Bottega & La Ciambella, Dolciano, Blanca, Cobyul, Papiro, Autopit, Dr. Max, Cătina, Teo's Cafe, Saria, Inmedio, Omniclean, Lisnic Hair Studio, CEC Bank, Minier, Schimbu 3, Let's Play, Praxis, and Congress Hall
The first Sinsay store in Iași – more than 1,000 square meters
Pepco department store – clothing and footwear, toys, and home and decorative items
Verdi events hall – capacity up to 300 people
Landscaped green areas – more than 4,300 square meters, 110 trees, 6,000 shrubs, lawn
Family Market symbol: 'Ode to Joy' statue by artist Vladlen Babcinețchi
137 parking places, bike parking spaces, two charging stations for electric vehicles
1 million Euro invested in fitting out the parking lot and upgrading the infrastructure
140 new jobs
Family Market Miroslava and Bucium – total investment upwards of 23 million Euro