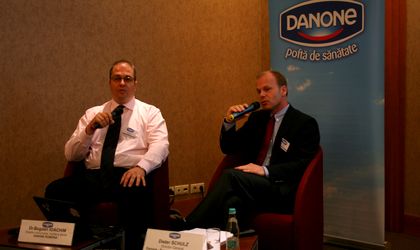 Danone's turnover in Romania amounted to RON 503 million (about EUR 119 million) in 2011, up 5.7 percent y-o-y, while sold volumes were flat. The growth rate is below the one reported for the previous year – in 2010 the company's business grew by 10 percent y-o-y.
"Danone Romania is our biggest business in the region and I would say it is also the most successful. The biggest challenge we have so far in the region is Greece," said Dieter Schulz who was appointed general director of Danone for Romania, Bulgaria, Greece and the Adriatic countries this April. The decrease of the purchasing power continues to be a challenge but overall, the local fresh dairy market has a lot of potential for future growth, he said.
Schulz  stated that one of his main objectives will be to encourage the consumption of fresh dairy through health awareness programs so that every Romanian will eat at least one pot of yoghurt per day. Statistics show that at present this amounts to only a pot of yoghurt every two weeks.
Per capita yoghurt consumption in Romania is one of the lowest in the region. Romanians eat on average 5 kg of yoghurt each year, whereas consumption reaches 19 kg in Bulgaria, 11 kg in Hungary and 35 kg in France.
In 2011 Danone invested RON 16 million (approximately EUR 3.8 million) which went into the company's factory near Bucharest. 90 percent of the products Danone sells in Romania are manufactured there. Danone Romania processed some 65 million liters of fresh milk last year, having partnerships with 57 local farms.
This year Danone celebrates 15 years since starting operations on the local market. The French company has invested RON 300 million since 1997 and it now employs 738 people.
Read more about Danone's plans for the local market in next week's print edition
Simona Bazavan
Picture: Bogdan Ioachim, Danone Romania communication director and Dieter Schulz, general director