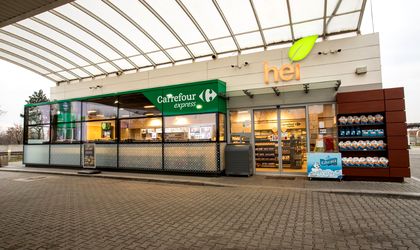 Rompetrol Downstream has entered into a partnership with Carrefour Romania for the implementation of a pilot project regarding the opening of Carrefour Express convenience shops in the hei area of Rompetrol gas stations. The pilot will take place in two stations, where customers will be able to choose from a varied portfolio of products suitable for immediate shopping – from fresh, BIO or "ready to eat", to hygiene products. 
The first store is already open in the Rompetrol station in Mogoșoaia (Ficusului Street, no. 2A), with the second one set to become operational by the end of the month in Ploiești (Republicii Boulevard, no. 140). Both Carrefour Express stores will operate non-stop. 
"Rompetrol has focused its efforts, in the last two years, both on the development of the gas station network and on their transformation into service centers, which will give customers the opportunity to solve, with a single stop, several tasks on the daily activities list. Through the new pilot project, we want to offer our customers an extension of the range of products available and, based on their feedback, to analyze a possible development of this partnership", said Zhanibek Nugertayev, General Manager of Rompetrol Downstream. 
Thus, customers have access to a wide variety of products, such as snacks, fresh products, but also non-food products, from hygiene products to travel kits (cosmetics in small containers, shower gels, shampoos, deodorants or baby wipes), emergency kits (disinfectant, patches), gifts (cosmetic sets, alcoholic beverages, toys, pralines) or seasonal products, both food and non-food. 
At the same time, the two hei gastro-restaurant areas in Rompetrol stations will continue to offer the well-known assortment of sandwiches, salads and freshly prepared fruits, respectively a wide portfolio of coffee-based drinks. 
"Carrefour Express stores respond to an increasingly dynamic lifestyle and offer healthy solutions, close to customers. Through the partnership with Rompetrol, we extend this proximity to motorized customers in transit, with an offer adapted to the long journey – from immediate necessities to premium or organic products, for fast purchases, even from gas stations. The Express format is an important pillar in our expansion strategy, and we are happy to have with us a reliable partner such as Rompetrol, with whom we can develop", said Vincent Rochefort, Director of the Proximity Network of Carrefour Romania. 
In line with Carrefour's commitment to providing healthy options, Express stores located at Rompetrol stations will also feature organic products, including under private label Carrefour Bio. 
At the same time, the Express stores also have a varied assortment of drinks, starting with a selection of Romanian wines, curated by Carrefour Romania through the reference program "Open Romanian Wine". Thus, customers can enjoy a generous range of premium wines, Romanian wines, and wines developed exclusively for the Carrefour network, perfect options for customers who want to enjoy a quality wine, once they reach their destination. Moreover, customers can find a wide range of beer (premium, artisanal or special, but also without alcohol), to satisfy even the most fastidious tastes. 
The existing store area within the gas stations will be redeveloped according to Carrefour Express standards, and the cash register area will be common, both for the purchases of fuels, products from the gastro hey portfolio, and for the Carrefour store. 
Thus, in addition to refueling, Rompetrol gas stations offer customers the opportunity to purchase both products for consumption on the spot and certain products for consumption at home. They can also pay for vignettes and bridge fees, withdraw cash from the cash register, pick up their package from the easyboxes near the station, and buy tickets to events or the lottery. In the future, they will be able to generate car and travel insurance.