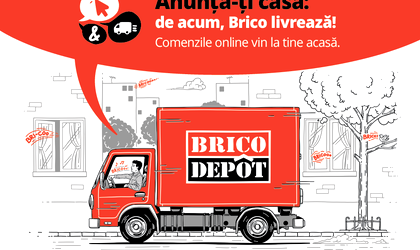 Starting this month, Brico Dépôt launches the Click & Delivery service for online orders, with home delivery. Whether they want to start a new renovation project or redecorate their house, Brico Dépôt customers can now order their favourite DIY products from www.bricodepot.ro website, choosing home delivery, easily and quickly.
After placing the order online, they have two payment options to purchase the products: with card (debit or credit, in full or in instalments with 0% interest, issued by the partner banks), and by bank transfer or payment order.
Want to know more about the world of Retail, eCommerce, and Logistics? Join us at BR's re:FOCUS on eCommerce, Retail & Logistics, an online event, committed to revealing the latest trends and predicting the future ones, while offering solutions to nowadays challenges of eCommerce, Retail & Logistics.
The launch of this new feature complements other services recently developed by Brico Dépôt to accelerate digitization. For example, through the Click & Collect service, Brico Dépôt offers its customers the opportunity to order online the products they need and to pick them up from a selected store, within 4 hours after placing the order.
'During this period, when digital transformation is gaining more and more ground, we have adapted and looked for the most suitable solutions to stay as close as possible to our customers. All these new features, including the one we are launching today, have been developed by our team at a fast pace, in order to respond effectively to the new needs of our customers and consumption habits. Thus, the Click & Delivery service represents a natural stage in consolidating our digital strategy and in our development as a business overall', mentioned Adela Smeu, CEO, Brico Dépôt Romania.
Moreover, in order to support its customers, Brico Dépôt has extended the period when they can return the purchased products, to 365 days for those who have a loyalty card, and to 90 days for clients without such card. More details about the Click & Delivery service and the delivery conditions here.