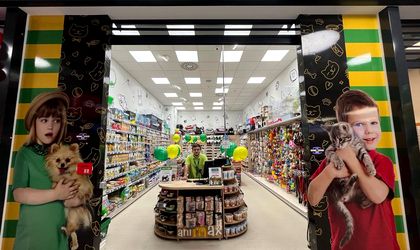 Animax, the largest pet shop network on the Romanian market, part of the Pet Network International group, announces the opening of two new stores, one in Bucharest, while the second one is Animax's first store in Turda city, Cluj County.
The investment will exceed 100,000 euros and the company's plans will not stop here, as by the end of the year, Animax representatives estimate the inauguration of six more units and an increase in turnover by 15% compared to 2021.
Animax Romania, the retailer specialized in offering products, services and consultancy in the field of pet care, expands its network with two stores this month: September 14 – Bucharest, Drumul Binelui str., sector 4, and September 22 – the first location in Turda city, Cluj county, in the new FunShop Park commercial complex. These two units join the other 116 units  open nationwide.
The company also announces the opening of six more stores in Romania by the end of the year. "We have more than 500 employees, and their number is growing with each store we open, which gives us an ever stronger impetus to expand the network, knowing that in doing so we are creating jobs and helping communities. Moreover, we will not stop even in 2023, we will continue the expansion at national level", says Ioana Socaciu, Head of Retail Animax Romania.
The company's focus remains advising the client
Each Animax store represents an investment of over 50,000 euros, the network expanding, since the beginning of the year, with four such units that offer pet owners a complete range of pet retail products and services.
"The most important thing is, apart from the fact that pet lovers find everything they need in our stores to care for their companions, that our team is always there to help them with useful tips and suggestions. We focus on advising clients because we understand their passion. The customers felt this and became loyal to the Animax brand, for which we are rightly proud, with an extended community at national level", explains Ioana Socaciu, Head of Retail Animax Romania.
Part of the Pet Network International group, Animax owns a network of stores with 116 units in Romania. In 2021, the company recorded a turnover of 52.5 million euros and estimates a 15% increase for the current year.
In addition to the network of physical stores, the company also has an online shop – https://animax.ro – where pet owners can also find useful information and advice for pet owners.