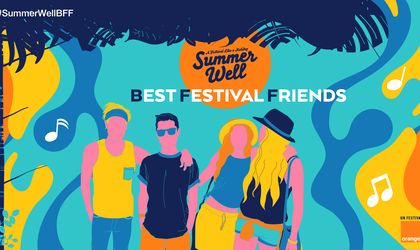 This year, Orange and Profero transform the atmosphere at Summer Well through the challenge of identifying festival friendships in the campaign #SummerWellBFF. By using a special algorithm anyone can test automatically the musical compatibility with other persons, through the Facebook profile.
Therefore, the music lovers that are accessing the application developed by Profero will have the occasion of discovering what is their gang of Best Festival Friends and to win awards that will help them live every moment of Summer Well together.
 "Summer Well is an unique festival, with an exceptional public and this direction of communication helped us monetize the festival friendships, bring together the people with the same musical interests and to award those that are truly 'Best Festival Friends'", said Mirela Bosoi, head of Brand and Communication Orange.
Alongside the coolest bands of the moment, this year's edition brings even more experiences for a festival like a holiday: Night Picnic – a totally new concept, ready for the night prior to the concerts, After Party and End Show.
The campaign #SummerWellBFF is developed until August 8 and awards the groups of Best Festival Friends with invites to Summer Well and gets priority access to the flights in the Orange balloon, during the festival.
The Orange team involved in the campaign was formed of: Mirela Bosoi (head of Brand and Communication), Andra Stegaru (social media specialist), Laura Sinca (communication specialist), Anca Stancov (head of media), Dragos Huian (events specialist).
From the Profero are part: Andreea Gavrila (senior copywriter), Daniel Oprea (senior art director), Elena Negrescu (senior copywriter), Dan Hariga (art director), Ioana Cozma (junior copywriter), Iulia Damaroiu (junior art director), Alexandra Ion (social media executive), Vlad Emandi (motion designer), Adela Preda (head of strategy), Madalina State (account director) and Evelina Lunga (account manager).
Romanita Oprea