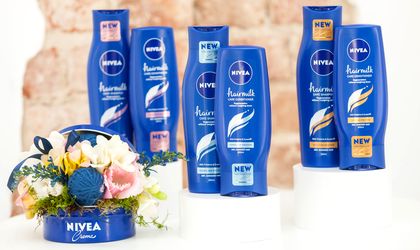 A salon opened for only 3 days – that was the concept for the event launch of the Nivea Hairmilk range, concept developed by FCB Bucharest agency. In March, The Pop-Up Hair Salon by Nivea was the unique place where over 70 guests had the occasion of testing the first shampoo and conditioner made by Nivea with milk proteins.
The Nivea salon was opened at Maison 13, which has a versatile space.
FCB Bucharest prepared a set-up in which the milk was promoted as a central element, being creatively positioned in a corner of the room.
Beauty bloggers, journalists from glossy magazines and Nivea fans selected after some contests running on the brand's Facebook page were invited to test the salon.
"We wanted  Nivea Pop-up Hair Salon to represent that place of pampering where they would trustfully try another shampoo and where, at the same time, they will find out that it exists something else beside that "ok", meaning the perfect match for their hair," said Olivia Spanu, senior copywriter, and Viorel Holovaci, senior art director FCB Bucharest.
For amplifying the event and the novelty of the products among the target group, Nivea and FCB Bucharest worked on a series of special events in social media and in print, in collaboration with three known beauty bloggers: Andreea Ibacka, Amelia Ciurica (Cosanzene.ro) and Fabulous Muses. They were the stars of some pictorials and cover stories in the magazines Unica, Femeia and Avantaje.
The teams involved in the project were:
Beiersdorf Romania: Carmen Pavel – Marketing Director, Claudia Pop – Brand Manager.
FCB Bucharest: Olivia Spanu – Senior Copywriter, Viorel Holovaci – Senior Art Director, Diana Nica – Junior Copywriter, Claudiu Dobrita – Creative Director, Irina Dumineca – PR Manager, Teodora Ieseanu –  PR Executive, Alina Stefan – PR Director, Alexandra Carabusi – Junior PR Executive, Cozmin Amariei – BTL Manager, Iulia Dumitru – Senior BTL Manager, Andreea Carciumaru – Account Director, Liana Negrea – Senior Account Executive, Gabriela Pricob – Production Manager, Ionut Stan – Production Executive.
The campaign digital and media declinations were implemented with the help of Republika and MEC Romania.
Romanita Oprea