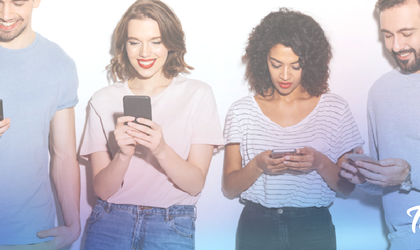 Today Havas Media Group and Teads unveiled "Project Trinity," a collaborative research study on the drivers of user engagement in publisher environments. Announced in 2021, the study provides metrics and analysis to create a virtuous circle for digital advertising that balances the needs of publishers, advertisers and readers.
Project Trinity found that readers pay more attention to advertisements when they are engaged in the content the ad is placed within, with articles generating nearly 600% more attention than subcategory pages and 160% more than homepages. Ads placed in the center of the screen on mobile received 25% more attention than ads on the side of the screen.
Research findings also revealed that 'ad clutter' weakens attention, with sports sites delivering twice the quantity of ads per screen, but only generating half as much attention per ad when compared to news sites. The study found a 20% balance between ads and content optimized user attention and limits the perception of clutter, suggesting that one larger ad over multiple smaller ones is more effective in garnering reader attention.
"As the media experience agency, we are committed to delivering meaningful media that connects with audiences in a specific context where a brand's message can be effectively delivered," said Dan Hagen, EVP, Managing Director, Global Head of Mx Development at Havas Media Group. "Project Trinity validates our philosophy that meaningful media experiences start with great user engagement, providing analysis for brands to deploy media investment in content that engages consumers and for publishers to create a sustainable digital ecosystem where the presence of ads enhances the user's experience."
The study used eye tracking and behavioral data passively collected from more than 2,000 US and UK panelists by Lumen Research since 2018, measuring engagement with content by a user's dwell time per screen and scroll speed. Comparing site categories, the analysis found that news, science and sports websites generated the greatest user engagement. News was the best performing category for time spent watching ads across gender and age groups, validating brands' ability to both support quality journalism and forge meaningful connections with consumers through their media investment.
 Caroline Hugonenc, SVP Research & Insights said: "Project Trinity should be a clear marker that the quality of attention an ad receives is as much of a driver of advertising outcomes as the raw volume. The user engagement with the content is clearly impacting the attention level on the ad and therefore creating value for our eco-system. As we start to build out models for buying attention, it's important that both buy-side and sell-side are aligning on delivering great user experiences that will benefit the full trinity of advertiser, publisher and user."
Furthering a commitment to delivering meaningful media experiences that hold audiences' attention, Havas Media Group recently announced a partnership to augment their Media Experience operating system with Lumen Research's proprietary attention data, allowing ad attention to be assessed more accurately than ever before during media planning and measurement.
A more detailed analysis of the Project Trinity research can be found here.