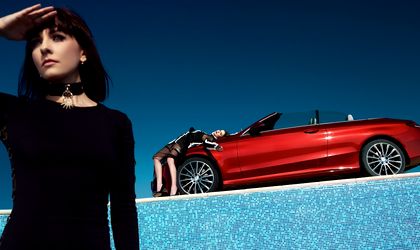 Mercedes-Benz marked the debut with the partnership with Andreea Badala, the designer behind the Murmur brand. She will represent the image of the range of compact automobiles Mercedes-Benz in Romania (Class A, Class B, CLA Coupé, CLA Shooting Brake and GLA). Through the partnership with Mercedes-Benz, the Romanian designer will drive a Mercedes-Benz CLA model.
The campaign "Grow up." – dedicated to the range of compact automobiles – accents the modern evolution of the Mercedes-Benz's brand identity, being the biggest and the most unconventional campaign in the brand's history from a point of view of the digital content, the promoted messages and the campaign's protagonists. The five models are the stars of the campaign launched at an international level in the first part of 2017.
"We are enthusiast to announce the partnership with Andreea Badala, one that reflects a vanguardist, characteristic for both brands. The innovative technique, the esthetic originality and the complexity of the details that are so obvious in the products that we create are at the base of this strong association, one guided by our mutual and permanent preoccupation for the personalization of the excellence and the offering of an original consumer experience," said Philipp Hagenburger, Managing Director Passenger Cars and CEO al Mercedes-Benz Romania.
Starting its launch in 2011, the luxury fashion brand Murmur gained a global presence, the daring and ultra-feminine creations signed by Andreea Badala being worn by numerous celebrities such as Beyoncé, Madonna, Lady Gaga, Katy Perry, Fergie, Kylie Jenner or Gigi Hadid.
"I've always been preoccupied by speed, in connection with the creative space. I've noticed how the creation speed must be calibrated to other speeds, such as the one of consumer's reception. Therefore, the partnership with Mercedes-Benz is challenging me and I wish even more speed. There is a normal completing in any project that we are thinking together and, as in any other relationship, everything starts from the mutual values. With Murmur, I haven't developed a brand after some canons. In the same sense, I am not presenting some pieces on the catwalk, but I am creating a different type of catwalk. And, on this different catwalk, I am walking alongside Mercedes-Benz," said the designer Andreea Badala, the Murmur founder.
The partnership's debut was marked by an unconventional and disruptive photo session that shows the spirit of the "Grow Up." campaign, created by the famous American photographer Will Sterns.
Romanita Oprea