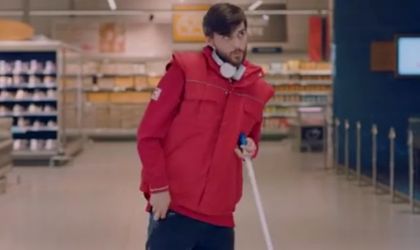 In order to celebrate the 1 million friends it has on Facebook, Kaufland Romania published the first video made with their support and in which the fans of the page decided, without knowing, the content of some of the clip's scenes.
In the video, a Kaufland employee started dancing to express his joy that so many friends gathered online – in a complete, unique manner and as the fans of the Facebook page decided. Therefore, with some days prior to the filming, the fans were challenged to answer on Facebook to questions about how they rejoice when they are happy, with what they would juggle of happiness, what they consider to be the freshest smell.
Their answers were integrated into a video: therefore, the dancer is floating, because this is what the fans wanted, he is juggling an apple and smells the fresh perfume of an orange, the freshest fruit, as the fans considered.
The video was created by Kaufland's online team together with the director Catalin Bugean and a team of over 30 specialists, including a professional dancer, a choreographer and utilitary alpinists.
"Our Facebook community page is in the first place a virtual meeting place for friends, therefore the concept of the clip started naturally: let's all contribute to the happiness of having here 1 million friends – both us and the page's fans. In online we have a permanent dialogue with our clients, therefore we built a community in which everyone contributes with something and has something to learn: us from the clients, they about us, and sometimes it happens that a client offers a piece of advice to another client – therefore the conversation continues in an authentic manner," said Alexandra Cirstea, chief Online Department at Kaufland Romania.
Romanita Oprea