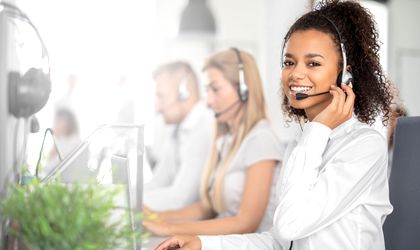 Businesses today implement numerous marketing strategies. Gone are the days when a business relies on only one advertising channel. That's because leveraging various sales tactics allows a company to continue to advertise and attract customers effectively, increasing their chances of hitting their revenue target in the face of an increasingly competitive market. 
However, it's essential to note that with digital marketing's invasion, traditional marketing tactics have been replaced by content marketing, social media, and email in the limelight. One of the most notable conventional advertising methods affected by the recent changes is telemarketing.
What's telemarketing? 
Telemarketing is an advertising method used in business-to-business (B2B) and business-to-customer (B2C) sales campaigns. The process consists of reaching out to potential customers via a phone system. The goal of telemarketers is to schedule a call to discuss their company's products or services. It can be performed by an agency, such as outbound call centers, or by in-house sales representatives. 
But does telemarketing still work now that digital advertising methods are already dominating many companies' marketing plans? Despite what may be the current popular belief, it's still very much in use. The truth is that this traditional advertising tool can do wonders for any business if implemented correctly, especially when using auto dialer apps that increase caller productivity. 
In this article, we'll discuss why telemarketing is still essential in the digital world. We'll also talk about how businesses can do telemarketing right.
Why telemarketing calls are still effective for marketing a business 
Telemarketing can still help you hit your marketing campaign's goals effectively, especially when incorporated with other advertising tactics. Below are some reasons telemarketing is still so powerful:
1. It enables direct communication
With telemarketing, a business can converse with its customers and potential clients directly. It levels the playing field for businesses of all sizes. It's especially true now that small companies can already transform their existing phones into a powerful business dialing system by renting a vanity number from trusted platforms, like Call Cowboy.
While it's true that consumers can now obtain all the answers for whatever queries they have regarding a business's product or service via instant messaging and email, most people still prefer getting the information that they need through conversations over the phone. That's because phone calls allow them to ask for a detailed explanation of something if they need it.  
Direct communication through telemarketing allows businesses to do the following: 
Build a stronger connection with their clients: With direct communication, a brand can build stronger customer relationships because it provides a clearer view of the customer's preferences, such as how they'd like to be addressed and their preferred contact channels. They can use such knowledge to personalize promotional messages and offers, creating a close link with customers. 
Show their employees' friendliness: Today's consumers only buy things they know will add value to their lives. They're not indiscriminate anymore. That's why companies have to prioritize human engagement and interact with customers like friends. When a business replicates the various interactions that bond people's closest relationships and inculcate them into its company culture and brand promise, the organization can create a more substantial business. It makes sense because a friendly demeanor compels a consumer to listen to what a telemarketer has to say before deciding to take an offer or not.   
Generate quality leads: Besides establishing a stronger connection with existing and potential customers, telemarketing also allows businesses to generate quality leads. In fact, by enabling companies to communicate with prospects directly, telemarketing has proven to be one of the fastest ways of securing new customers.
During lead generation, telemarketers compile a list of new prospects by reaching out to potential customers. They'll also identify the prospective client's nature and requirements. Telemarketers will then pass all information they've collected to the sales teams, who will convert the leads into paying customers.
Follow up with leads: Without a good follow-up strategy for your marketing campaigns, it's like you're harvesting crops only to let them spoil out on the field. That's why lead follow-ups are a crucial aspect of a telemarketer's job. Following up with generated leads actually increases sales opportunities by 20%. (1)
2. It allows businesses to gather and compile accurate campaign data 
Telemarketing can also be an efficient tool for analyzing the success of a brand's marketing or sales campaigns. That's because telemarketers can get in contact with customers directly to gather reviews. It allows a marketing team to gauge satisfaction or dissatisfaction levels that they can analyze to improve future campaigns. 
Sure, you can use email surveys and other digital channels to gather campaign data. However, such methods may not always be effective, especially if you're targeting an older, non-techie audience. They may not even check their email inboxes!
While some people might say that many customers are likely to hang up on telemarketers, the truth is that it wouldn't be the case if your reps know how to do telemarketing right. For instance, by knowing the specific set of requirements that clients have, telemarketers can perform a satisfaction survey in a manner or way that will make it desirable for those customers.
3. It can enhance customer satisfaction 
Customer satisfaction is crucial regardless of the industry a business operates in and the product or service it's offering. That's why brands have to do their best to ensure that they have delighted clients. 
But how does telemarketing help improve customer satisfaction? It enhances the client experience by treating prospective and existing customers as acquaintances rather than clients. At the end of the day, empathy is what matters the most. People need personalized service and experience, and that's what telemarketing can do for your customers.
4. It can boost a company's sales 
Many companies still use telemarketing to tap into new customer bases and markets and sell their products or services. In fact, more than half of marketing heads working in Fortune 500 companies testify to telemarketing's effectiveness in closing sales. (2) 
That could be because of the fact that calls aren't limited time-wise, which means that salespeople have more than enough time to encourage a consumer to pay for a product or service. Every company's primary goal is to increase revenue; telemarketing is a great tool to help them on that journey.
5. It's a cost-effective marketing strategy 
Choosing to promote your product or service through telemarketing over other marketing strategies allows you to save money on promoting its product or service. It's the final reason that telemarketing is still essential even in today's digital world. 
Sure, you still have to hire professionals to be your representatives. However, you don't need an in-house team; all you need is to outsource to call center companies. 
Since a third-party team will do all the legwork, business owners can control their budget objectives while leveraging telemarketing's power to the max. Also, there's no need to spend money on training, which is why telemarketing is a fantastic tool for companies on a tight budget, particularly startups.
How to do telemarketing right 
It's clear that telemarketing still has its advantages. That's why more than half of B2B marketers still use it, mainly to generate leads effectively. (3)  
However, as previously pointed out, telemarketing will only pay rich dividends and deliver a healthy return on investment (ROI) when done correctly. It's especially true at present when the COVID-19 pandemic has transformed sales processes and the market in unprecedented ways. 
Here are some things that telemarketers can do to stay on top of their game in 2021:
1. Connecting with the prospect or customer on a deeper level during a call 
The agent or representative itself is telemarketing's first line of approach. That's why they must be well-versed with whatever product or service they're trying to promote. They should be assertive in introducing themselves and the company. Furthermore, telemarketers must be quick-witted and be able to respond to any situation.  
It doesn't mean, however, that they have to sound like a typical telemarketer. In fact, instead of using jargon, agents or reps should use everyday words. Also, if appropriate, they have to talk to prospects or customers spontaneously and warmly. 
Addressing the client with their first name can also help. It's actually all about offering an individualized experience so that agents or reps could connect with the person they're calling on a deeper level. 
Connecting with call recipients on a deeper level during a call is important because the prospect or customer has most likely already received similar dozens up to hundreds of sales calls. Telemarketers have to try to be different from the rest to make an impact.
2. Ensuring that the database consists of reliable data 
Information is vital to the success of any business. It's especially true when doing telemarketing campaigns. That's why the best telemarketers don't just make calls and then try to close sales based on basic information and simple questions. As much as possible, they also try to uncover the prospect's job, place of work, and even income bracket.
A proper database system with verified data brings all this information to the telemarketer's fingertips as additional insights that will help ease the communication and help agents and reps make the right offer.
3. Omnichannel marketing 
What's omnichannel marketing? It's the integration and cooperation of the different channels a brand uses to interact with prospects and customers. It allows businesses to create a consistent brand experience for their target audience. Omnichannel marketing also enables consumers to engage with business organizations on their own terms, which results in a better customer experience overall. 
But how does omnichannel marketing impact telemarketing? It makes the campaign far more engaging and rounded! For instance, a telemarketer can send a text message if a call doesn't connect when dialing. That way, the agent can arrange a callback and reschedule the call. 
Telemarketing can also be integrated into social media, website, and email, making the entire sales process more inclusive. By doing so, agents won't miss an opportunity just because of a call connection failure, not to mention they can provide a seamless experience to clients.
Final Thoughts 
Despite the bad perception surrounding it, telemarketing thrives in the digital age. It's a cost-effective marketing strategy that enables direct marketing, enhances customer satisfaction, and boosts sales. 
Telemarketing may be a traditional marketing technique, but there are certainly ways to utilize it to stay ahead in an increasingly competitive market dominated by digital marketing campaigns. Some of the things you can do to streamline telemarketing are connecting with the audience on a more personal level, leveraging reliable data, and using an omnichannel marketing strategy.
References:
"4 Statistics That Will Transform Your Telemarketing Efforts," Source: https://www.tradepressservices.com/four-statistics-transform-telemarketing-efforts/ 
"Is Telemarketing Effective?," Source: https://www.linkedin.com/pulse/telemarketing-effective-russell-meiselman/ 
"Lead Generation Statistics Show B2B Telemarketing A Useful Channel," Source: https://itsyourcall.com/lead-generation-statistics-show-b2b-telemarketing-a-useful-channel/