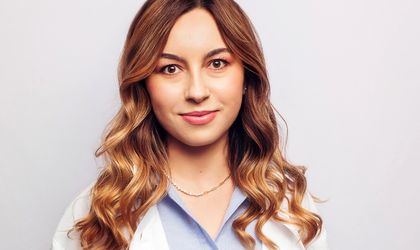 Irina Manole leads the newly-formed Sustainability & CSR Department within the integrated communications agency Oxygen. She has a certification in Sustainability in Business and is a seasoned professional with more than 10 years of experience in corporate & brand communications, employer branding, CSR and sustainability. Recently, Oxygen announced it has become the first carbon-neutral agency in Romania and established its sustainability department, providing strategic communications consultancy on sustainability matters to companies. Therefore BR sat down with Irina Manole, Head of Sustainability & CSR, Oxygen, and discussed the context of the business move, the collaboration with CSR Nest, the industry overall and many more interesting subjects.
By Romanita Oprea
What does it represent for Oxygen to become the first integrated communications agency in Romania to offset its carbon footprint and become carbon-neutral?
Oxygen has always been a conscious business, it's part of our DNA. We have always kept purpose in mind and we've chosen to act. As we have started to dive deeper into the subject of sustainability, together with our clients, we wanted to walk the walk, not just talk the talk. To become carbon-neutral.
Businesses have a substantial role to play in climate action and I believe that in the near future we are going to see a lot more initiatives across our industry on addressing environmental impact.
This new milestone gives us a renewed purpose and energy, and this is just the beginning of our sustainability journey.
When has sustainability started to become very important in the agency's strategy and plan?
We have been seeing for some time now the increased consciousness in our society related to ESG practices, from the individual to the company and government-level. A new world is clearly in front of us, and we must adapt quickly. The pressure related to climate change is increasing and thinking and acting on ESG in a proactive way has lately become even more pressing. In this context, and being part of an industry that gives voice to many sustainability initiatives, we felt it's our responsibility to play an active role in shaping the conversation. Standing true to our values and our brand name, we included sustainability among the key priorities of our company.
We also have the chance to work and learn from clients who are leading the way towards a more sustainable future and practice what they preach. Arctic, the leader of the Romanian home appliances market, which we are proud to work with, is a pioneer of sustainability in the region and the innovations implemented in their production facility are an example of best practices. Same goes for clients such as Vodafone, Enel, Tenaris and many others, who are sustainability champions in their industries.
The agency also launches a new department providing companies strategic consulting and communication services on sustainability. What are the main plans for 2022, as of now and why?
Our plans focus on developing our sustainability department, deepening our knowledge in this area and further assist our clients to integrate sustainability into their business and subsequently, communication strategies. Fortunately for us, we work with people who understand that systemic changes are needed, but also punctual actions in each area of operations, for the change to take place in the direction of a more sustainable future. So, there's a lot of work to be done and that motivates us.
At the same time, we focus our efforts on implementing and communicating internally a decalogue for our colleagues and a toolkit through which to constantly monitor and reduce our carbon footprint. Our aim is to build even more appetite for this practice because I really believe that in a company, sustainability is directly proportional to the level of involvement of all the employees.
Why did you decide to collaborate with CSR Nest? What type of partnership will it be?
What were the green initiatives to launch recently?
CSR Nest is our "green partner" with which we carried out successful projects before we joined forces on this business venture. They are a group of passionate and experienced advocates who push things forward quickly and meaningfully, and we have common ambitious objectives. Our knowledge, expertise and capabilities are complementary, and our goal is to work together to improve the social and environmental performance of our existing and future clients.
We have already planted the seeds of a greener future and our agency-wide tree planting initiative was highly appreciated by our colleagues, partners and clients. This is an ongoing project that will be developed in several forms.
You said that the agency will also continue the afforestation project kicked off earlier this year, when, in partnership with CSR Nest Association, the company planted one hectare of forest in Prahova County. What will happen next in this regard in the future?
We are currently implementing a series of initiatives for carbon monitoring and reduction within the agency, and we are focused on identifying those improvements that can have an impact in our carbon-free objective.
We followed the linear process of climate action, we measured and offset our emissions and we are now carbon neutral. But we don't see that as enough. We will reduce our carbon emissions as much as possible and we will continue to invest in natural-based solutions, therefore the afforestation project is one of our priorities. This autumn, we will continue our planting efforts because we want to extend the Oxygen Forest and contribute to a more resilient climate. Our team is highly motivated by this goal, ready to take responsibility for what we are promoting.
Oxygen's mission is to sustainably grow brands and businesses through insights, a strategic approach and results-oriented integrated campaigns. Please tell us more about it.
We made this our belief, and, over the years, we have had the chance to develop successful campaigns with our clients in various industries. We stay true to effective campaigns driven by purpose, and we always challenge ourselves to think beyond the brief and see how we can bring change. I'm lucky that I developed professionally in a team with people who all strive toward progress, who are curious and eager to grow. Today, more than ever, communication professionals need to be up to date with everything new and own the tools and solutions at hand to foresee and address the new challenges.
What do you believe to be the main trends in sustainability communication for 2022-2023?
I expect brands and companies to encourage a shift away from the consumerism approach to citizenship because when people think of them as citizens, rather than as consumers, they are more likely to participate and contribute to a common cause. There are many people who claim they want to live a sustainable lifestyle, but very few are actively changing their behaviors. And that's because a sustainable lifestyle is still perceived by many as being inaccessible or costly. Our industry has the ability to change this perception through inclusive and empowering communication. Sustainability is for everyone, and no one should be left behind – it is in fact the central promise of the 2030 Agenda for Sustainable Development and its SDGs. The journey towards sustainability is a collaborative one and I expect to see it expressed even more in communication.