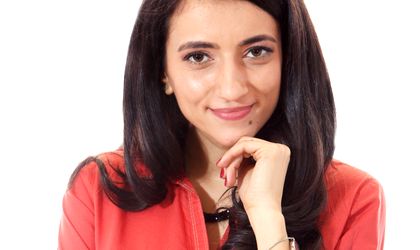 She put the basis of her advertising agency right after finishing university and receiving her bachelor's degree in Marketing, in 2006.  BR talked with Dana Nae Popa about pastel's business evolution, the pitch strategy, the trends and the overall Romanian advertising industry.
By Romanita Oprea
How was 2017 for the agency in terms of turnover /revenues?
2017 was an unusual year. Although our gross income was similar to the one we had in 2016, the profit was smaller. It was the consequence of a conscious decision to invest in the development of the agency by adding experienced specialists to the team.
What were the departments that were most successful? What about the least successful ones?
In an agency with almost 30 people who are very different in their expertise and experience it is rather difficult to establish such a ranking. Especially since the projects are integrated communication projects, requiring interdepartmental teams. What I can say is that now, more than ever, clients are looking for agencies or communication solutions that address a real business need. They don't ask for creativity for the sake of creativity anymore, or for technology for the sake of technology. So the most appreciated campaigns were the ones that not only ticked some deliverables in a brief, but also answered business objectives while creating memorable brand experiences for the consumers.
What about the pitches you joined?
In 2016, we had more than 100 invitations to smaller or bigger pitches, either for new or existing clients. Comparatively, we had way fewer invitations in 2017, but there were still pitches with 5, 10 or even 15 agencies. Last year we were much more selective with the pitches we answered to. We looked at how many agencies were invited and what kind of agencies they were; we refused those projects for which we didn't receive all the necessary information. We were also pleasantly surprised by companies who initiated very transparent pitches, with a correct and complete brief, with debrief meetings and very detailed feedback, even when the answer was negative.
We like those pitches that make us to feel we are in the same team as the client. No matter how creative and experienced an agency is, delivering a campaign and "correctly" solving a brief is not possible without the full support of the client. On the other hand, clients want to feel like they found a partner who shares their language, who understands their business and proposes creative, relevant and doable solutions.
How would you characterize the local advertising industry in 2018 in terms of budgets, campaigns, creativity,etc?
Compared to 2017 there are no fundamental changes. Despite the talk about an economic growth, there is still a lot of pressure on the budgets, although clients agree that they must pay a fair price for "the idea". The fact the marketing teams change very often, as well as the teams in agencies, leads to the toning down, to a safe zone, of many of the campaigns with a lot of potential. Everybody looks for immediate results, paying less and less attention to the long term structure. So, yes, there is plenty of room to do better, to spend budgets more efficiently and, especially, to develop campaigns that are both creative and relevant.
What were the campaigns done by the other agencies in Romania that you admired and why?
I appreciate how Romanian agencies started being more preoccupied by campaigns with a meaning, how they became more aware of their role and importance in society. That is why my favorite campaigns are those that changed something – like MagicHOME by Jazz. I also like the campaigns that honestly and sustainably bring the consumer closer to a brand.
What were the most important changes & novelties in the agency in 2017 and how did they come to happen?
There are many beautiful happenings that our agency went through in 2017. Top of mind, for me, is the arrival of Laura Iane as a creative director. It was a good change, and it also came with the challenge to harmonize the micromanagement style of working that we were used to with Laura's vision. Also, towards the end of the year we worked on an important project for an even more important client: pastel agency itself. So, after a 360° business diagnosis and a market research we started working on the repositioning of the agency, which will take place over the next 2-3 years.
What trends did you notice on the local market last year and how do you intend to follow them /represent them at your agency? What do you foresee for 2018 from this point of view?
As I was stating previously, communication campaigns seem to be more and more focused. This makes it easier to explain to our clients that we need more info in order to solve a brief, we need to have access to the business objectives so we can understand what kind of campaign would work best.
There's an intense talk about trends, and our industry sets the tone, but I think now, more than ever, the most relevant trend is "relevance".
What is your goal for 2018 in terms of revenue, but also new clients, employees, etc?
I never make plans for a certain type of client, or for a particular brand. Our portfolio is quite varied, we work with different industries and brands, and it's what makes our everyday job exciting. In 2018 I wish for honest partnerships, based on trust and respect. The 12 years with pastel taught me that, when in the relationship between a client and an agency we can speak about ethics, anti-bribe policies and transparency, beyond the documents imposed by the legal departments, only then we can speak about long-term results and campaigns that make us proud.
With regards to the team, I know I already have passionate people by my side, who want to learn more and better, and I hope they will always find in pastel a place that keeps their love for this field alive.
What do you want for the local industry this year?
More stable project teams, within the clients' organizations' as well as in agencies. But, most importantly, more stable joint teams.
How do you see the Romanian market connected to the international one at this moment?
The local market is more and more connected to the international one, not only by the local presence of the most important multinationals, but also when we think of the increasing number of campaigns developed here that are exported to other countries. There are many international clients who prefer to work with Romanian agencies. Also, the international prizes won by Romanian agencies are an extra proof of how connected our industry is.
Where is the local industry still lacking and how can it be changed?
Right now, I think the main problem of our industry is a lack of specialized people. There are more and more advertising seniors who are either seduced by a job at the client's, planning to leave the country or deciding to completely change their field of work. On the other hand, young people don't think advertising is as cool and attractive as they used to. I see job ads every day, for all kinds of agencies and for positions at every level. Moreover, lately I've seen agencies are publishing recruitment ads for middle and top management positions, which has never happened before. The recruitment process for such positions consisted either in looking for personal recommendations, promoting from the inside or headhunting.
So, if we were to change something in our industry, we – those who are passionate for it and actively working in it – should strive to make it better, more attractive and desirable for those we want to have as colleagues. I don't think this change can come from a campaign, an event or an action of the IAA/UAPR/ARRP, it's more an awareness we should all share, of the fact that our every action and interaction will help or harm our industry.