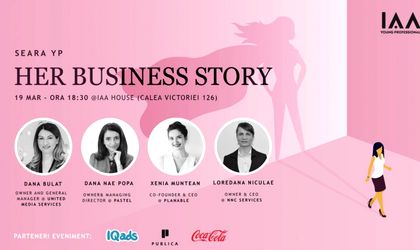 IAA Young Professionals, the association of young professionals in advertising and communication in Romania, will host next week the first YP Evening dedicated to women's entrepreneurship, named "Her Business Story". Students and marketing, advertising and communication specialists will take part in the event at the IAA headquarters, on Tuesday, March 19th, starting 6:30 pm, to discuss the involvement and the development of women's business initiatives that lead to success stories.
By Romanita Oprea
The event's speakers are: Dana Bulat, General Manager United Media Services, Dana Nae Popa – Owner & Managing Director Pastel, Loredana Niculae, Owner & CEO NNC Services and Xenia Muntean – Co-founder & CEO Planable.
Among the discussion topics of the YP Evening: Her Business Story we find: determination and motivation in choosing the entrepreneurial path, the professional journey in women's entrepreneurship, career opportunities, and challenges faced.
"In the month dedicated to the woman we want to bring into the limelight the ladies that impressed us with their strength and the professionalism they showed during their careers. We invite you to hear the stories of the successful women entrepreneurs of the Romanian marcomm industry," said Iulia Niculae – Cuciurean (President IAA Young Professionals Romania).
Entry is free, by filling in a form. Places are limited.