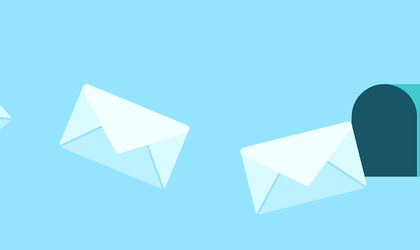 Putting in digital marketing to your business is a good way to build your brand, market your company online and build MQLs (Marketing Qualified Leads) for your sales branch of the business.
As you build your customer base, people who have done business with you can keep in touch with your company through email marketing – this can mean them being updated about new services or products, upgrades and deals, or just company updates they may want to hear.
Building on this relationship through email marketing is a very subtle yet clever marketing approach. By keeping them in-tune with your business, you heighten the likelihood of them buying from you way down the line.
Using an email marketing platform like Ongage can create a crucial marketing strategy within your business, helping create more leads and improve retention down the line.
In the last five years, there has been a yearly increase in the number of emails shared worldwide as a result of greater internet accessibility. An expected 319.6 billion emails per day were sent and received globally in 2021.
When promoting the core offering of your company, email marketing is as pivotal as any marketing channel in growing and maintaining your brand.
When you centre your email marketing around your core business and initiatives, you can let customers know about offers and bundles immediately – this can be a huge boost in revenue, customer retention and even acquisition through word-of-mouth. A strong email marketing performance will create wins through lead gen, increased brand awareness, a higher level of trust between your business and customers and more.
Personalization
The importance of customization in email marketing cannot be overstated. Personalization raises open rates and demonstrates to your audience your understanding of their requirements and wants. It encourages readers to take action and makes up a significant portion of a successful lead nurturing strategy.
The majority of marketing influencers name email segmentation and customized email message as their most successful personalization strategies when asked where and how the personalization takes place. You almost surely lose clients to brands that personalize their emails if you don't.
Pick the Right Time for Email Sending
Timing plays a significant role in the success rate of your email campaigns. Obviously, you want to increase your open and click-through rates, so picking the proper time is a crucial consideration.
Another justification is that devoted viewers might want to interact with your information (share with friends or on social media, etc.). With this in consideration, you should make use of all of your resources to choose the best moment for them. There is no one time to send that work for everyone.
Give Away Freebies
Enticing your email marketing subscribers with free gifts is a great way to build affinity with them.
Although you might be hesitant to give items for free, many subscribers are willing to exchange their email addresses for this kind of promotional content.
The most common freebies are templates and tools, with a click-through frequency of 26% to 66%. Even though you may desire to grow your email list, you must adhere to certain guidelines, specifically the CAN-SPAM Act (Controlling the Assault of Non-Solicited Pornography and Marketing Act). Every email must comply with the CAN-SPAM Act by having a relevant subject line, your email account at the bottom, and an unfollow button.
Segment Your Subscribers
You can connect with your customers in a way that is more relevant and direct by segmenting your email lists. It gives them the appropriate information at the appropriate moment. If you do it well, the outcomes will be fantastic.
In their study on the effectiveness of categorization for marketing activities, Optimove found that targeted subgroups with up to 150 consumers experienced a $1.90 increase per customer. The biggest growth was observed in organizations of 1,500 or more. This illustrates that the range of realistic campaign outcomes increases with group size. Sales increased by 24 percent for companies using email segmentation, citing the Lyris Annual Email Optimizer Report.
Email Marketing Is An Open Platform.
To be able to interact and interact with an audience, many corporations have spent millions of dollars over recent years purchasing sizable social followings. Facebook frequently modifies its algorithm to reduce the number of individuals that read brand postings, unless they are sponsored advertisements, despite the fact that businesses are spending money on social media.
Due to the prominence of this strategy, 98% of devoted clients are unlikely to see the items in their feeds on social media. The announcement by Twitter that it will likewise use an algorithm-controlled feed seems to be moving in the same direction.
Conclusion
What makes email marketing so crucial? Email is currently the most efficient marketing channel for grabbing attention, connecting with customers and prospects, and generating sales compared to the other numerous marketing available channels nowadays to reach your intended targets.
Email marketing is the most effective medium for creating enduring client relationships. Overall, a well-thought-out and implemented email marketing campaign may be a potent instrument for increasing sales for your company. You may increase the efficiency of your efforts and increase sales by focusing your efforts, tailoring your messaging, and thoughtfully scheduling your emails.