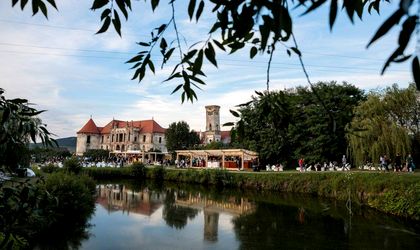 I just returned home from Romania's best music festival experience, Electric Castle, an annual event that amazes audiences with their creativity, lineup and brands' activations. Long story short, a great, small team recreates the entire Bontida Castle space into a complete and out of the box music festival experience. And this year, a new, unexpected kingdom broadened festival-goers' horizon. But I will return to the kingdom topic later on.
The fifth edition of Electric Castle had over 220,000 sqm and nine different stages. The central stage had over 80 meters, as well as a 600 sqm worth of LED screens, 8K resolution. Taking this into consideration, it's crystal clear that Bontida-based festival has become a hub for innovative marketing that promised to those approximately 40,000 daily festival-goers a unique experience while potentially endearing brands to them—at least that's what the brands hope.
Show me the numbers
It's not a secret for anyone that with each cultural movement, brands have been willing to find ways to get involved. It's a smart strategy for marketers who are vying for millennial money in particular, as a majority of festival-goers fall within this coveted demographic—but these types of experiences aren't suitable for every category or every brand.
According to the Romanian platform of cultural news, www.art7.com, at this moment, in Romania, we have 1.124 festivals. In my opinion, from this incredible number, probably 30-40 events/year are worth seen/attending for the quality of the program and the topics discussed. Going further with the data available online, a regional news platform, Cluj Life, made some interesting graphics regarding the costs of the most-wanted music festivals. And the amounts are quite impressive.
For example, for Electric Castle only, they calculated a total sum of RON 1,209, split as follows: RON 499 for the festival pass, RON 25 for a meal, RON 6 for water, RON 8 for beer, RON 20 for cocktails, not to mention the parking, accommodation and transportation to/from the festival. According to their computation, Electric Castle is the most expensive festival from Romania. I can confirm this festival worths every penny. But at this edition, something quite interesting happened, a premiere in the world of local festivals: a retail brand has basically recreated an entire supermarket experience, with supermarket prices, for the festival-goers.
And I'm not the only one who has appreciated the brand's effort, the festival-goers also officially thanked the retailer, as it could be seen on their official Facebook page.
Going royal at the castle
The electric kingdom as LIDL brand has named its Electric Castle activation offered a wide variety of festival experiences, from food to fun. In terms of food, my personal surprise was the special grill space created to cook your own meal, as you do it at home. Basically, you were doing your food shopping from the supermarket which looked exactly as their usually locations, then you had a special space outside to grill. Also, the entire royal market as they named it was near the camping area, a very good alternative for those who were actually living there. And their supermarket had everything you could need for a 5-day-living-in-there experience with prices you already knew if you are a regular customer.
In terms of fun, the royal wheel was definitely the attraction of the festival. Not to mention the view from the sunset up there, or how it looks like to see thousands of thousands of people having fun in front of the main stage.
But how royal is royal? In recent years, our local festivals have become bigger and sometimes better. In the article mentioned above from Art 7 cultural platform the question is if we are still going to the festivals for the cultural act – music, dance, theatre, cinema, etc. or for the brand experiences. And this is how royal occurs: Electric Castle is a festival you attend for the amazing lineup. And most of the people talk about the legendary mud & rain & the fun we have had dancing in the rain in the previous editions, while every single band thanked us for being such an amazing public. This year, I believe we had our royal treatment enjoying the festival with a good care of the money. And I'm quite sure almost everyone entered their supermarket to grab a snack or proper food or buy some cosmetics you forgot to pack. And for that, a very big thumbs up for the idea, which basically cut significant costs for the festival goers. And another thumbs up for the t-shirt idea, Electric Queen and Electric King sold at regular prices, similar to those they have in their supermarket for this type of clothing.
High hopes for future
While gaining more and more international coverage of our local festivals, I'm truly hoping at some point we will have a brand sponsoring the sustainable dance floor, as seen at Coachella 2017. Or a Country's Club, meaning a moveable three-level structure for specific music events.
With millennials, teens and incoming generations of consumers behind them, the audience wants authenticity and this is what a brand should offer. There's clearly plenty of room for brands to impress at festivals, but before signing contracts, you should ask yourself if your brand experience offer tangible value to the festival-goers. And from my point of view, Lidl did it quite good.
Photo credit: Lidl Romania Facebook page / Mihnea Ratte