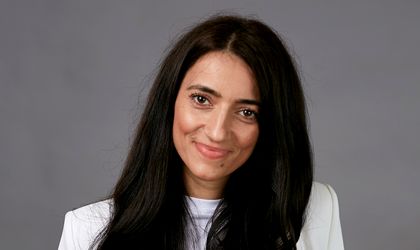 The last two years have been one of the most challenging ones in recent history, with companies having to adapt and be very resilient and strong in order to survive a never-before-seen situation. With no means to compare it to anything else. Still, 2021 proved to be good for the Romanian marcomm industry, especially for those companies that knew how to drive the trends and be flexible. 
By Romanita Oprea
BR talked with Dana Nae Popa, Owner & Managing Director pastel, about the agency's year, the new roads and challenges it took, as well as what she foresees for 2022 and the local communication industry.
How would you describe the year 2021 for pastel?
2021 was a good year for our agency, a comeback year after 2020. Looking beyond the numbers – which showed a slight growth compared to the previous 12 months – I would mention that 2021 brought new people, but also new clients and partnerships. It was an intense period – same as with the whole industry. Our biggest joy in 2021 was starting pastel Association. The idea of launching an NGO came from an internal communication programme, which had existed within the agency for 4 years. It was called "no month without a good deed", an accurate explanation of the mission me and my colleagues took on: to do a good deed every month. The more we did, the more we realised that the need was far greater, that there was so much more help we could offer. This is how the pastel Association was born, under the slogan "no month without a good deed", with the purpose to convince as many individuals and companies to transform doing good into a habit. Right now the association is in a stage of growth and organizational development. The team counts 4 people already and has completed several projects.
The agency started a partnership with Canopy. What has been so far the impact of that decision?
We had collaborated with Canopy for several years before 2021. By signing the strategic partnership in 2021 we entered a time of accelerated transformation towards a digital-first approach, and a better integrated approach of the campaigns we develop for our clients. Clients could see that what they receive from our partnership is an accurate measurement of their campaign, a digital strategy and the optimal mix of channels, combined with pastel's strategy, creativity and capacity to implement integrated campaigns, and they had all the more reasons to work with the pastel&Canopy team. And 2021 was only the beginning, the year when we perfected the partnership and made big plans, so the true results we were planning for will start showing up this year.
What were the most difficult aspects in 2021? What about the best ones?
The pandemic, working from home, accumulated fatigue, the wish to try something new pushed many advertisers (including some of our colleagues) to look for new challenges. This meant we had to recruit new people, to replace the ones who left, but also to cover our growth needs. 2022 found us in a bigger team than in 2021 –  right new there are 35 of us. Compared to other years, recruitment was a more difficult process. We had situations where people signed the contract, but gave up the job a few days before actually starting, people who seemed 100% convinced they want to work in advertising but took on offers in completely different domains, people who were confirming in the morning that they are coming to the interview or connecting to the call, only to stop answering all messages and so on. These situations were happening before too, but in 2021 we saw more of them than in all the previous 15 years.
Of course, on the other hand, the new colleagues who filled in the places and completed our team are one of the good things of 2021. I want to thank them for their energy, passion and wish to contribute to the development of the agency, but especially for all that we learn from them.
What are the things you are most proud of?
It was a loaded year, we have built beautiful projects with the entire team, and I'd say they are the ones I am most proud of. I want to thank them for being by my side and in my agency in such a difficult year and I am glad we managed to do things we are proud of.
How much time do you believe we will see the impact of the pandemic on the marcomm industry in Romania?
Before we even got to consider the pandemic impact, we started thinking, maybe even more fearful, about the impact that the war will have on our economy and the marcomm industry. We will see hybrid or online events for a long time, teams working from anywhere in the country or in the world and people who are still afriad of getting contaminated with the virus.
I am curious how much longer will the big companies afford to pay rent for empty offices, how much longer people will be able to handle working from home or when we will go back for real to socialising the old way, like before the pandemic. It is a phenomenon we will talk about for a long time, from now on, and unfriendly deadlines or low budgets will be invoked on the long term, with the pandemic or postpandemic period as an explanation. It will likely resemble the previous financial crisis, which was still an excuse, although it was long past, for asking reduced costs or special discounts.
If before the war in Ukraine the brands in our country appeared to be a little euphoric, happy to see the light at the end of the pandemic, now it is easy to notice a new cautious attitude, trying not to appear tone-deaf to the reality of the war. The bottom thing in communication must be ~adaptation~. Adapting the tone, the messages, even the channels depending on the evolution of the war, but alsop of a possible wave 6, that some medical figures warn us about.
How do you see the local advertising right now?
Like any field, advertising has strong points, as well as weak ones. I stayed in this industry for such a long time for the energy, the dynamism and the enthusiasm that infuse everything. But these 2 pandemic years, the war, the financial crisis and all the other things that happened lately have taken their toll on these strong points. We need to enjoy what we are doing more, to become aware of the reasons why we are in this field – be it by chance or by choice – and not to forget why we have chosen to do it. I would like us not to take ourselves so seriously and allow ourselves to play more, to experiment more. This doesnt mean to stop paying attention to results, deadlines, budget and all the other technical and serious aspects of the job. I am just saying I miss seeing more joy in the people I meet (Im referring to clients as well as agencies), more contentment with what they do.
In what type of pitches do you want to be invited in 2022 and why?
What a good question. First of all I wish to be invited in real pitches. My hope is that more clients become aware of the effort and wear-and-tear agencies go through to participate into make-believe pitches. There are resources, people, hopes which feel absolutely worthless when spent for phantom pitches. This takes away people's motivation, drives them away from the industry, and we all have to lose from that in the longterm. Secondly, both me and my colleagues want pitches and consequently clients who we really form a team with, who understand that access top their data does not mean we will use them against their business, who keep us upodated with their plans, tell us what their real business problems are, which can be solved through communication.
Last, but not least, a different type of ideal pitch and client is the one allowing us to leave something behind, with whom we can build campaigns that will bring not just business results, but also a change in the life of people, employees and society in general.
What do you believe to be the main trends for this year and why?
Before the war started in the neighbouring country I would have said that the decreasing impact of the SARS-COV2 will bring a time of returning, of dreaming, of experiences, lack of worry, that would have translated into optimism and generalised joy in communication. Now, though, I think we must always be prepared to adapt, to tone down the happiness and play in a safe zone. I still hope this period will end soon and that we will gop back to discussing NFTs, the Metaverse, experiential e-commerce, interactive content, more Long-Term Influencer-Brand Relationships etc.
Name 2 myths that still hang around in the industry and they shouldn't?
It is said that in Romania clients don't understand why they should pay the pitch tax – and they don't pay it. Well, in 2021 we had three clients who paid us a pitch tax, and a client even gave up organising the pitch and worked with us directly, after a chemistry meeting where we presented ourselves and also mentioned how much we would appreciate if he paid a symbolic pitch tax. I was surprised to notice that, when you explain to a client how much effort and how many resources a pitch entails, they actually understand the necessity of this tax. Our policy is to ask for a pitch tax that will allow clients to use our ideas no matter what the result of the pitch is. In case we win, the pitch tax is deducted from the first invoice. Of course, the pitch tax is not a reason to refuse participation, but maybe we will get there too.
Another myth refers to the young people who enter the industry. Many employers complain that they don't want to work, that they are spoiled and undecided etc. I especially interviewed many young people in 2021, we took part in the PR&AD Fair, I was a mentor for the PR Arena especially looking to better understand my young future colleagues. I found that many of them have plenty of energy and motivation to do things, but especially to get involved, to help, to take jobs in companies which have the same values as they do. I think every generation had its stars, but the ones in the current generation shine brighter than any, and this gives me comfort. Even if reality shows we actually need more stars, while discovering less in the real world.
What is your goal for 2022 in terms of revenue, but also new clients, employees, etc?
Our goal is that for 2022 we develop the CSR and the employer branding part even more. We hope to close the year with a general growth rate of 10%, and for our key areas (CSR and employer branding) we wish to have 30% – 40% more projects than in 2021. Although we already have in our team the right people to build on the defined objectives, we are prepared to grow our team if the evolution of our projects will require it.
Where is the local industry still lacking and what can still be changed?
Maybe the negative events that took place lately made me see more of the good that is happening around. So I can only think of the positive: bolder projects, brand collaboration, communication people and brands getting involved in campaigns that help society etc. I hope we maintain this trend, while the things that aren't working diminish.
How do you see the creative sector in Romania in 2022 and what do you think will happen in the future?
I believe that the future belongs to those who understand that being creative is not something that must be in the job description. You don't have to work in the creative department in order to be creative. You can practice creativity when you make an offer, when you organise an interview, when you design a marketing plan and so on. So I see the utility and necessity of applied creativity regardless of the job you are in. The good news is that the creative director of pastel believes the same.
You once said that clients are looking for agencies or communication solutions that address a real business need. How much has this tendency accentuated or not in 2021?
I haven't changed my opinion, on the contrary. After 2 pandemic years, and with the beginning of the war in Ukraine, knowing and rightfully approaching the business problems and needs are a priority, or they should be, for marketing peoiple and agencies alike. I think all this pressure brought by the new economic crisis, the pandemic crisis and now the war will affect many businesses, and communication needs to be adjusted so that it helps where it is needed and especially where it is relevant.
How would you describe yourself as an advertising professional and entrepreneur?
Soon I will celebrate 20 years since I started working in this industry and I can't picture myself doing anything else. I love what I do, and my activity with the agency is guided by two important questions: 1. Is pastel the agency where I would like to have a job or build a career? And 2. Am I the owner, the antrepreneur that I would like to work with and follow? If I want to answer YES to both of them, I keep empathy and ethics as main values and principles. I also think that, no matter how much experience you have, there is always something to learn from people and situations, so I am constanly in an open relationship with learning.