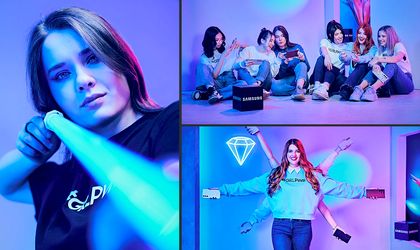 Strategic communication consulting and data intelligence company Cheil | Centrade, the hub for Southeast Europe of the Korean network Cheil Worldwide, signs a new campaign that celebrates women in Gaming, "Share Your Power".
In 2022, Cheil was the most awarded network globally for projects in Gaming, campaigns such as "The Cost of Bullying", "Quest for Dyslexia" or "The Battle Inside" obtaining important trophies at Cannes, Clio Awards, The One Club, LIA or Spikes.
Launched at the end of March, a month dedicated to women, the "Share Your Power" project is part of the #PlayOnWithSamsung communication platform, which brings together all the brand's actions in the gaming area, such as participation in gaming events, gaming content creators' activations, as well as organizing brand owned gaming competitions. The protagonists of the project are the girls from the brand's gaming squad, #GRLPWR, respectively: Ana Dumbravă, AlexaTV, Karinul, Adrii Von B, Antonia Nuckle and Reddysh. GRL Power was designed to inspire and encourage girls to follow their passion in gaming, despite prejudice, and is made up of gaming content creators, as well as girls from other fields (entertainment, esports), who are passionate about gaming. Samsung supports the girls by including them in local brand campaigns and participating in gaming events, thus wanting to inspire the female community and empower it to grow further.
"Share Your Power", the initiative supporting gender equality in gaming, was conceived as a two-stage project. The first stage involves a series of interviews with each of the six supergirls on the #GRLPWR team. The video series, titled "Power Stories," showcases their experiences and challenges while stepping into the world of gaming. The videos capture their journey, from overcoming obstacles and discrimination to the evolution of the gaming ecosystem, where girls can enjoy playing and competing without facing prejudice. The stories can be watched on YouTube under #ShareYourPower or on the campaign's dedicated page, https://www.samsung.com/ro/allout/gaming/share-your-power/