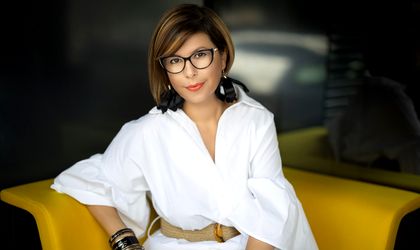 After a short period of time spent in media and five years into an advertising multinational, in 2005, Ioana launched the agency GMP PR. The agency won awards in competitions such as Sabre Awards, European Excellence Awards or Romanian PR Award and won awards such as "Best Use of PR Evaluation," "PR Innovator of the Year," "Newcomer European Agency of the Year," "Romanian PR Agency of the Year." In 2011, Ioana represented Romania in the jury of Cannes Lions Advertising Festival. BR talked with Ioana about last year's evolution, the industry's trends, challenges and pros, as well as what she believes 2020 will be like.
By Romanita Oprea
This interview is a continuation of last year's one, that you can read here.
How was 2019 for the agency in terms of turnover /revenues?  
2019 was a very good year for GMP PR. In terms of numbers, we had an 18% increase in turnover and a significant increase in profit. Our main concerns were to invest in current partnerships with our long term clients, growing our team and improve both the efficiency and effectiveness of our activity.
It was a year of evolution in the agency life, which came after a 2018 when we took many hard decisions that generated positive internal changes. In other words, in 2018 we planted the seeds and one year later we picked the fruits.
The results did not fail to show, as our 2019 work was highly recognized with 10 awards won at the PR Award, where we achieved GOLD in categories with heavy competition, such as Brand PR, Media Relations, Employer Branding, Best Use of PR Measurement.

What about the pitches entered?
We were selective in entering pitches and chose them very carefully because we were involved in many projects with our currents clients and didn't want to neglect them.  To sum up, we were involved in 7 pitches throughout the year, out of which we won 5 and one was canceled.

How would you characterize the local PR industry in 2019 in terms of budgets, campaigns, creativity, etc?
There were budgets directed to PR campaigns, but what is worth mentioning is that they have been spent with great attention to the return on investment. The creativity in the PR market decreased. With few exceptions, clients no longer wanted to take risks, which is why the PR market did produce very few memorable campaigns last year. The difference was rather made in the content area.
Still, the good news is that companies continue their investments in PR, see it as a strategic tool, and there are many initiatives launched in the branch of Employer Branding, trainings, or other strategic endeavors.
What were the most important changes & novelties in the agency in 2019?
We continued to invest in our team and strategic programs rewarding the loyalty of our colleagues, which helped us reach a very low employee turnover rate, which comes against the market trend, and to ensure stability on the accounts.
We currently have a new BTL team, that has grown fast and very beautifully. Also, since the end of the year, we expanded our business with a new Head of Corporate, with a strong background in corporate communications in a large multinational company.
That being said, overall it was a year in which we have set ambitious goals and all of our teams were really involved in achieving them.

What trends did you notice on the local market last year and how do you intend to follow them /represent them at your agency? What do you foresee for 2020 from this point of view?  
Without any doubt, the main trend to point out is the involvement of brands in issues on the public agenda. More precisely, brands started to stand up for causes larger than their usual CSR programs.
It is a trend that appears more and more frequently in our day-to-day debates with clients and which convinced more and more companies in Romania to react, take a stance and get involved. When you see what is going on in the world, you simply cannot stand aside as a brand. But this involves courage and to assume possible controversy.
It's very hard to make a memorable campaign everybody talks about, without upsetting somebody.
What do you hope for 2020 for the PR Romanian industry? What about for GMP PR?
For the future, I hope we will see more original campaigns and communication efforts that have the power to make a difference in the world. More "Magic Home", more "Long Live the neighbour's goat".
As a resolution, I'd expect more integrated campaigns started from PR, as well as more PR campaigns with an impact on business, not just in the awareness area.
What are the changes you intend to bring in the agency in 2020 and why?
In 2020, at GMP PR we will focus on expanding our offer and areas of expertise and bring our products and services to the next level. We already have many constructive debates started in this area, both with our teams and with our clients. We generally aim to have more campaigns with a real impact in our clients' businesses, not just nice PR initiatives that people talk about at some point.
For this, we will complete our expertise by seeking to hire people from companies, with a business-oriented background, rather than the classical PR people with previous agency experience.
Where do you see the Romanian PR industry compared to the European PR industry? Is the migration of seniors influencing the local industry?
From my point of view, there are some good people on the market, with a lot of experience, who are capable of building great things and offer strategic counseling to clients. Unfortunately, they are few and, as a consequence, there is great pressure on them. Because the migration of the mid-level personnel is so high, they are constantly losing their support in teams and thus start making efforts to compensate with their own extra-work. Thereby, they often end up in a one-man show role, which is extremely tiring. This happens both in agencies and companies. Our clients work more than ever, the Corporate Communications departments are crammed with tasks and, in this way, they are under enormous stress and they face the same workforce problems that all industries face.
Where do you believe to be our industry's main problems and how can they be changed?
Lack of workforce has led to panic and bad decisions, which eventually led to a crucial involution of the market. We also made many of these mistakes. We hired people in a hurry, because we had no better options. We offered them salaries well above their level of experience, and after a few months, they left elsewhere, where they have grown even more. There are people who have tripled their salary in a year, without having the professional development to justify this increase. And so, in this context, we found ourselves in a difficult situation. We have increased our business expenses, but not the contracts, because the annual budgets were fixed.
There is only one solution. To motivate our people, to make efforts to keep our teams together, because the chaos in the area of human resources does not help grow a business on healthy basis.
How do you see the lines blending between PR, social media and advertising today?
The good news is that there is no longer any rule to be followed. Now, it is all about the leadership of the idea, not the leadership of the competence. The best idea can come from anywhere, from PR, from advertising, from Social Media, even from BTL.
Unfortunately, in companies, there are still barriers regarding the role played by the PR department and in this regard, things are more complicated. PR people can have great ideas, which can impact business in real depth, but sometimes they only remain on paper, because of corporate-barriers such as that the budgets are stuck in the Marketing department. The PR Competence within companies needs to be repositioned and we, as a partner of our company-clients, are making sustained efforts to help them overcome obstacles in this area.
How of an important role are still having the consultancy and the strategy?
The challenges our clients face have grown so complex, that there is a greater need for smart, experienced consultants who can help manage them. Surely, anyone can implement a launch event with influencers, anyone can issue a press release, anyone can come up with a nice and lovely launch idea. But to manage a major crisis in Social Media, a reputation issue in the area of employer branding or a huge conflict with a community, you need a lot of experience and a series of successful cases behind. For these kinds of challenges, there will always be the mature agencies and the clients willing to pay for a valuable service.