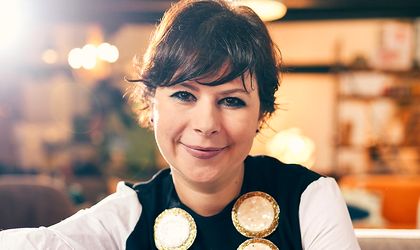 Founded in 2007, GMP PR, part of GMP Group, is in TOP 3 most important PR agencies in Romania, according to Unlock Market Research's study. During the years, the agency's activity was recognized locally and internationally in competitions such as Sabre Awards, European Excellence Awards or Romanian PR Award. Among the received accolades are "Best use of PR Evaluation", "PR Innovator of the Year", "Newcomer European Agency of the Year", " Best European Launch" or "Romanian PR Agency of the year". BR talked with Ioana Manoiu, managing partner GMP PR, about the changes in the agency in 2018 and what is to come in 2019, as well as the Romanian PR industry and how it would react to a possible new crisis.
By Romanita Oprea
How was 2018 for the agency?
2018 was an important year for GMP PR as the agency's management has changed. I returned to the operational area. For me it was a tough year, but for the agency it was a good one, because I came up with another perspective and an intention to drive significant culture change. I heavily invested in the team in terms of personal growth and employee engagement. We stayed very close to our current clients, we tried to understand their needs and offer them integrated solutions. 2018 was the year in which we focused our efforts on becoming a fresh agency, genuinely more connected to the changes of the world we live in.
What was the situation like for pitches?
We kept the new business to a minimum in 2018, as we paid particular attention to our current clients. We had a lot of work to do, and pitching takes up lots of resources. We refused many pitches, we were selective, we managed our resources carefully. This has helped us be even more efficient. We won all three pitches we participated to in the first part of 2018. We have had several new businesses in December, whose results will be communicated this year.
How would you characterize the local communication industry in 2018 in terms of budgets, campaigns, creativity, etc?
Companies are still investing in PR, especially in the areas that bring value: strategy, wow campaign ideas, employer branding and internal communication. As far as GMP PR is concerned, we only felt the reorientation of budgets to other areas, with a direct impact on business.
What were the most important changes & novelties in the agency in 2018 and how did they come to happen?
In the beginning of the year we launched the Employer Branding department, which had a lot of work to do, therefore today we have five people in this team. Otherwise, we have invested in Social Media and Digital, in the Creative team, and we increased our Client Service team. Our news is the focus on team motivation. I do believe that only happy people can perform and cater to the various needs of the clients at the highest standards. We launched internal programs, we did periodic evaluations, development programs for managers, and coaching sessions. We have been inspired by our HR clients and we now provide some of the benefits that the best employers offer. We have minimized work over the program by sharing the volume across multiple teams. Thus, in a year when the turnover in the agencies was high, we managed to retain our key people. Our clients have appreciated this.
What were your most wanted services by the clients in 2018?
Employer Branding was the star of the year.
How is GMP PR positioning itself on the Romanian PR market?
A full service PR agency with entrepreneurial spirit and a lot of creativity.
What were the biggest campaigns you worked on?
The Entrepreneurship Museum for CITR, #TraiascaCapraVecinului for PressOne, Valley of the Hair, Hair Barometer & Digital Divas for Avon.
What were the campaigns you admired in the local industry and why?
I liked two content campaigns: Story of a home for Storia, which I followed since I am a big fan of interior decoration and Social Me, the KFC series for young people. Both were very well executed and came up with a fresh and exciting angle to talk about brands with a quality craft.
What trends did you notice on the local market?
Brands start to create original content. Some are good  at this, others less, but companies start to be more open, more willing to experiment, which is a very good thing. Social media crises occur daily. Companies have adapted their reaction speed and decision-making process to respond quickly. The workforce has led to the need for companies to invest heavily in the employer brand. In 2018 there were many campaigns in this area, especially retail and IT. I expect it to grow in 2019.
What types of clients are you looking for in 2019?
We are looking for brave clients who are open to breaking the classical patterns and communicating with consumers in their language, as they need it. Companies that have the courage to get involved in social challenges, beyond their CSR programs. The world has changed greatly in recent years, from communication channels, to language and to approach. If you do not adapt, you quickly become irrelevant.
What do you wish for 2019 from this point of view? What do you wish for the local industry this year?
More courage, more openness, more exciting content and fewer outdated tactics, like press releases or media relations.
Do you believe a second economic crisis will come?
Probably. But I am not scared. Challenges test your ability to adapt, keep you active, make you better. The need for communication will always exist, and there are only a few good experts. We've been through a crisis, we know how to deal with that.
If so, how will it affect the Romanian PR industry? What did you learn from the last crisis and how prepared are you for a new one?
We already are in a crisis caused by the lack of workforce. It's hard to find competent people in all areas, financial pressure increases, and job offers are everywhere.
I have learned that you don't have to try to change something that you can't change or victimize yourself, you have to stay focused on solutions. Agencies must learn to invest in people, just as corporations do. Make internal programs, loyalty programs, events. If you do the right thing, if you see them, if you care, people stay with you and they won't accept the first offer they get. We've invested a lot in people at GMP PR last year and the results of that are already visible. We will continue to do it this year too.