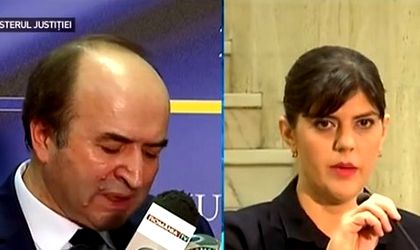 Romania's Constitutional Court (CCR) issued a lengthy motivation more than one week after constitutional judges ruled out that there was a conflict between the government and president Klaus Iohannis over the request to dismiss Laura Codruta Kovesi, the head of the National Anticorruption Directorate (DNA).
The CCR established that the president "is due" to issue the decree to remove Kovesi from DNA's leadership.
The judges said that the president "did not have any objection regarding the regularity" of the procedure initiated by the minister of justice to dismiss Kovesi so the head of state "should have signed the dismissal decree."
The CCR went on to say that "The Romanian president has only one competence in the procedure, limited to checking whether the procedure is legal." The judges said that the minister of justice has a pre-eminent role over the activity of prosecutors.
"The same constitutional paradigm applies to the revocation procedure, with the minister of justice holding a central role within this procedure," said the judges.
Last week, president Iohannis said that "no matter what the court decides, I will expect for the motivation, I will read it and will act accordingly."
In February, the minister of justice Tudorel Toader published an assessment report regarding the activity of the DNA from the past year.
Toader invoked 20 points from the report, suggesting that Kovesi's management style "can endanger" the institution she has been leading since 2013. At that point, he initiated the procedure to remove Kovesi from the DNA.
In early April, Iohannis said the saw no reason to dismiss the head of the DNA. He later said he rejected the request of  minister Toader to dismiss Kovesi.
Kovesi has been leading the DNA since 2013. Her second mandate at the helm of the institution ends next year. During her tenure, anticorruption prosecutors have investigated dozens of influential politicians.
"It is time to send an alarm signal and express our concern regarding the potential damage done to prosecutors' independence, which represents an essential premise of the fight against corruption. Without the existing legal guarantees, the fight would not have been possible, and losing these guarantees could mean that the ongoing investigations conducted by anticorruption prosecutors could be gravely affected," said the DNA in a statement following the decision of CCR announced last week.