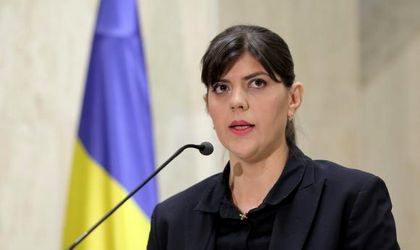 Romanian Minister of Justice Tudorel Toader asked on Thursday for the removal of the head of the National Anticorruption Directorate (DNA), Laura Codruta Kovesi, whom he accuses of being too authoritarian and prioritising corruption cases with high media impact, among others.
Toader presented on Thursday evening a report he compiled, which includes 20 arguments for asking for the removal of Kovesi, who has been at the helm of Romania's main anti-corruption body since 2013. In a press conference, the minister said Kovesi had made defamatory statements regarding Romania in interviews for the international press.
The main arguments for ending Kovesi's mandate as the head of the DNA laid out by Toader include: breaching the constitution for investigating the Government Ordinance No. 13, the investigation of the Government Decisions on the transfer of Lake Belina from state ownership to that of Teldrum, excessively authoritarian behaviour, contrary to the obligations pertaining to the status of magistrates, the prioritisation of corruption cases with high media impact, challenging acts and the authority of the Romanian Constitutional Court (CCR), pushing for sentences in corruption cases at all costs, the increase in the number of acquittals, the increase in expenses and wrong reports, the lack of involvement in identifying and stemming alleged abusive behaviour by prosecutors, forgery of phone transcripts, and lack of involvement in checking the professional activity and behaviour of certain prosecutors from DNA's Ploiesti unit.
The decision lies with the Romanian president, Klaus Iohannis, who will receive the request for the removal of Kovesi as well as the report drafted by Toader. The Superior Council of Magistracy (CSM) will also give advice on the request submitted by the Minister of Justice.