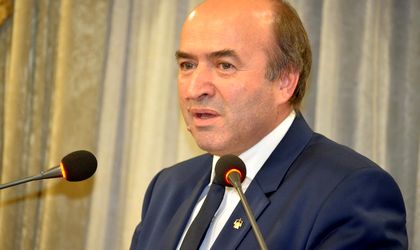 The minister of justice, Tudorel Toader, says that he expects president Klaus Iohannis to respect the ruling of the Constitutional Court (CCR) and approve the removal from office of Laura Codruta Kovesi, the current head of the National Anticorruption Directorate (DNA).
Toader said that the legal effect of the decision of constitutional judges will kick in once the motivation is published in the Official Gazette.
"From that moment, there is the constitutional obligation of the president to issue the revocation degree per the decision of the court. Personally, I don't think the president will refuse to go with the CCR decision."
The minister, who initiated the procedure to dismiss Kovesi in February, says that the president will breach the Constitution if he refuses to fire DNA's head.
"Of course, in the Constitution there aren't sanctions such as fines or jail. But the Constitution establishes the landmarks of the rule of law, and if the guarantor, the most representative power in the state, doesn't respect it…," said the minister during an interview at Antena 3.
On Wednesday, the CCR ruled there was a constitutional conflict between the minister of justice and the president after Iohannis refused the request to dismiss Kovesi in April. The president's decision was challenged at the CCR by Toader.
Kovesi has been at the helm of the DNA since 2013. Under her mandate, the prosecutors got international recognition for their efforts to clamp down of corruption in the public sector. A series of high ranking politicians have been put on trial in the last year, including MPs, mayors, ministers and a PM.
The second mandate of Kovesi at the head of DNA will end next year. Earlier this year, she said she had no plans to step down.
Thousands protested in Bucharest and other cities in Romania following the ruling of the CCR.