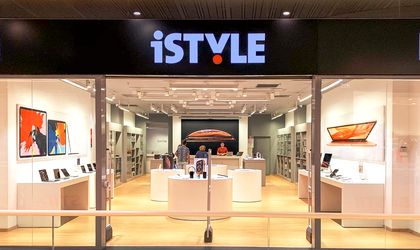 iStyle has announced its takeover of the iCentre Store in Bucharest's Promenada Mall, which turns it into the sole Apple trading partner as Apple Premium Reseller in Romania. The value of the transaction was not made public.
iStyle manages ten locations in Bucharest and other big cities in the country with a total about 1,500 sqm of high-tech premium retail, designed and executed with Apple's well-known attention to detail, and hires over 50 highly trained consultants.
The acquisition complements the actions taken over the past year, including the integration of the iStyle PRO team as Apple's authorized service department (a priority business segment for 2019), migration to a new e-commerce platform that improves user experience and facilitates the process while providing increased security for online payments, as well as the expansion of the B2B project team that supports organizations targeting the implementation of the Apple ecosystem, regardless of their current size and structure.
"We are starting the business year in full force and through this transaction we achieve two goals: to be the unique Apple Premium Reseller in Romania, a position that honors us but also represents a great responsibility towards our customers and that of continuing to develop and consolidate the iStyle network whenever there is an opportunity on the market," said Valeriu Ion, general manager at iStyle Romania & Bulgaria.
In 2018, iStyle Romania recorded the best financial indicators in the company's nearly 20-year history, reaching a turnover of more than RON 180 million, which means an increase of 16 percent compared to 2017. Growth has been organic, illustrated by expanding its presence in the most popular shopping centers in major cities in the country.
For the current year, iStyle aims to put even more emphasis on meeting Apple's needs, including the opening of a stand-alone service center in the second half of the year, in addition to the take-over of stores. It will streamline the diagnosis, troubleshooting, repair or replacement of products both during and outside the warranty period. When it comes to service, iStyle customers will benefit from additional benefits, such as a 25 percent rental fee for an iPhone for the period when their device is in service.
Beyond figures and indicators, iStyle's main goal remains not only to market the latest innovative products created by Apple, but also to provide customers with a complete experience through personalized service packages. They combine pre-sale specialized consulting, flexible financing and protection options for iPhone, iPad, or Mac through extended insurance and warranty packages, initial device setup support, and the ability to participate in group training sessions or even one-on-one sessions with an accredited Apple expert.
iStyle will continue to invest in its staff through training and verification programs run by certified Apple trainers, as well as by performing periodic mystery shopping procedures for objective assessment and quality of service.
iStyle, part of the Midis Group, is the largest Apple Premium Reseller network in Central and Eastern Europe. Through its 43 retail and online stores, iStyle offers the full range of Mac, iPad, iPhone, Apple Watch and Apple TV products along with an impressive but carefully selected portfolio of accessories and software. The first iStyle store was opened in 1999. Currently, there are ten iStyle stores in Romania – five stores in Bucharest, and one in Constanta, Timisoara, Cluj, Brasov and Iasi. The company has 70 employees in our country.