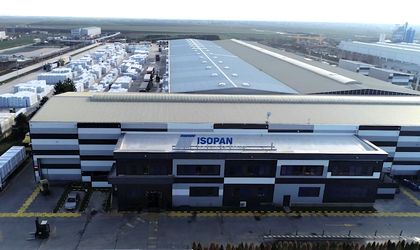 Isopan Est, the largest manufacturer of sandwich panels in Romania, declared a revenue of 110 million euros in 2022, a year marked by the company's fortification of its leadership role in the domestic market, evidenced by its financial outcomes and significant projects in which was involved.
The 35% revenue growth from 2021 is attributable to the execution of a cohesive business strategy tailored to the intricate international climate, which also had substantial impacts on the Romanian market.
In quantitative terms, Isopan Est produced 3.5 million square meters of thermal insulation panels, a rise from 3.17 million square meters in 2021. Of this volume, over 2.1 million square meters of panels were sold domestically, a 19% increase compared to the previous year.
A comprehensive study of the Romanian market, conducted by Neomar, reconfirmed the leading position of Isopan across all segments. The company holds the most substantial market share, at 22.8%, both in terms of the volume of panels manufactured and sales.
In the previous year, Isopan generated revenues of 49.1 million euros from sales within Romania, accounting for 21.2% of the entire domestic market. Additionally, Isopan maintains its leadership position in the export sector, with a total of 1.34 million square meters of panels manufactured and distributed across Romania's neighboring countries, including Hungary, Serbia, Slovakia, Republic of Moldova, Bulgaria, and Ukraine.
The Neomar report, along with an examination of Isopan's operations, reveals an optimistic market trend characterized by a growing emphasis on quality. There is an increase in market demand for mineral wool panels and for panels with greater thicknesses, a sign that this segment of construction is maturing and customers are more careful about the materials used. The reconfirmation of market leader status, in the context of the increasing demand for premium materials, once again underlines the quality of the products delivered by Isopan Est.
"Despite the economic context, the 2022 financial outcomes demonstrate that our business strategy was well-founded. We have channeled investments into our most valuable asset, our team, with the retention of skilled personnel being a crucial aspect of our approach. I am delighted that these figures indicate we are on the right track. Isopan Est serves as a benchmark in the Romanian market due to the high-quality products we provide, as well as our ability to offer comprehensive solutions for our clients' projects. This market leader position, which we both appreciate and take responsibility for, also establishes a clear trajectory for continuous growth through the development of novel and innovative solutions in line with global trends. Being part of a notable group with over 45 years of experience affords us the advantage of staying one step ahead. I would like to emphasize that, to us, this market leadership signifies that the comprehensive suite of solutions we deliver and the expertise of our colleagues are increasingly valued by our customers. Isopan Est is synonymous with project quality, from the tendering and optimization stages to its completion", stated Toni Pera, General Manager of Isopan Est.
Over the next two years, Isopan Est has earmarked an investment budget of 5 million euros, which will be used to expand the capacity of its existing facility and diversify production.
At the same time, 2022 was an intense year for Isopan regarding the big construction projects. The company delivered top products and optimized solutions, in line with the business strategy for major projects like: Lidl Cernica logistics center, Dedeman logistics centers, eMAG Hungary, Samsung Hungary, expansion of Lidl logistics center in Sofia, logistics centers of CTP, VGP, Jumbo Sibiu and Leroy Merlin, Penny and Lidl stores and supermarkets.