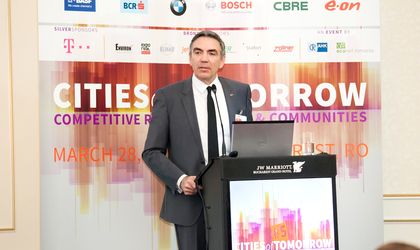 Romanian cities Sibiu and Timisoara, two cities present at Cities of Tomorrow #5, are a priority for investors.
"This year's edition of the Cities of Tomorrow was one of the most interesting, because it brought to the same table actors in the public and private sector," Delia Ungur, ADLO General Director said.
The Romanian-German Chamber of Commerce and Industry (AHK Romania) organized on Tuesday, March 28, at JW Marriott Grand Hotel in Bucharest the fifth edition of the Cities of Tomorrow conference. The event gathered around 300 participants from all over Romania including architects, urbanists, business environment representatives, as well as private and public sector representatives, confirming once more that the event, now in its fifth edition, is important at a nationwide level, and is dedicated to the importance of urban and regional development. The central topic of this year's conference was cities' competitiveness.
The event was open by the president of the Romanian-German Chamber of Commerce and Industry (AHK) Mr. Dragos Anastasiu and by His Excellency Mr. Cord Meier-Klod, Ambassador of the Federal Republic of Germany.
The first part of the event had as its center the speech of Ms. Dorothee Dubrau, architect and Leipzig deputy mayor, who brought to the attention of participants the way in which Leipzig transformed from a typical Eastern block city, almost derelict and de-industrialized, as is the case of many in Romania, to a young and prosperous, modern city with a strong industry and an important logistic hub.
Next came the presentation of professor Peter Zlonicky, Head of the Office of Urban Studies in Munchen, who spoke about the integrated urban development possibilities. Romanian cities have a huge urban potential, he said, highlighting their multiethnic identity as well as the existing multinational relations. We have, in his opinion, excellent examples of buildings dating from different architectural periods and it is only up to us to make the best of them! A solution towards this end would be to organize in a few years a program such as 'International Building Exhibition', which led to many buildings in German cities such as Berlin and Hamburg being revitalized.
The first panel, moderated by Mr. Vasile Iuga, PwC Romania Senior Consultant, and featured ADLO General Director Ms. Delia Ungur, Ms. Imelda Tóásó – Brasov County Vice-president, State Secretary with the Ministry of Regional Development Mr. Ciprian Lucian Rosca, Ion Mincu Architecture and Urbanism Mr. Dorin Stefan, architecture professor at Ion Mincu Architecture and Urbanism University, Mr. Dan Pascariu, non-executive Independent President of the CA of NEPI and Romanian Commercial Bank Executive Director Ms. Ioana Gheorghiade.
The premise of the panel was that the development of cities does not happen by itself, but it involves a complex effort, coordinated, that needs the involvement of all actors: local authorities, investors, fund providers and the community. Significant investments must be made in the following fields: utilities, healthcare, education, transport, tourism and lifestyle. They concluded that similar to people, companies or countries, cities too are in a permanent competition: for businesses, investments, qualified workforce or tourists.
Cities of the future, in order to become smart cities, need an integrated and holistic approach in their urban planning and development, bringing together the social economic, environment and territorial dimension.
Constant consultation between investors, local public authorities, developers and the civil society, making urban planning more transparent and drafting development projects that take into account the need of cities and of citizens, the existence of SWOT analyses for every city as well as the long term vision are extremely necessary aspects for attracting investors to revitalize Romanian cities.
The second part of the event was dedicated to finding concrete solutions, viable, referring to eight topics of major importance in regional development: efficient energy management, EU funds and financing, city governance, mobility, waste management, tourism, reconversion and revitalizing of abandoned industrial sites and construction regulation. The best solutions, which were discussed during a round table. Were voted and awarded during a ceremony at the event's closing. The event ended with a debate on city branding and promotion, which featured Sibiu Mayor Ms. Astrid Cora Fodor, Mr. Dan Diaconu, Timisoara deputy mayor and more.
The panel discussion focused on the impact of the European cultural capital program on economic, social and cultural development of cities.
This year's edition confirmed that the event, organized by the Romanian-German Chamber of Commerce and Industry (AHK) has become an important platform of interaction between the public and private environment, offering the possibility for an important exchange of information, experiences and not least the creation of new business contacts.