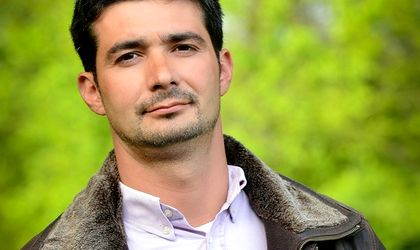 Alexandru Dinulescu is an engineer who has come up with a new business model for the Romanian market: building spherical houses at apartment prices. These are the geodesic domes on wooden structures that Americans are so fond of. With the goal of creating a structure analogous to nature's own designs, Dinulescu builds his domes with the conviction that they are the most efficient building systems available.
By Daniela Oancea
How did you come up with the idea of building a geodesic house?
It was my teenage dream. I was fascinated by all the atypical constructions, from pyramids to igloos and yurts. This dream made me study at the Technical University of Civil Engineering of Bucharest. There were metal domes in the Tei Lake area where I lived as a student and I would often tell a colleague of mine, "I shall build things like these one day," to which he would answer, "I believe you!". My dream came true, but it has also become the dream of all those who want a very special home at a good price.
Have the works of Buckminster Fuller been a source of inspiration?
I have studied thoroughly the work of Buckminster Fuller, the American architect who is universally recognized as the father of geodesic domes. And this American has a great story. He predicted that the future belongs to sustainable buildings and renewable energy technologies. In the US, this type of house is sought after by families who want to avoid typhoons. They also have greater earthquake resistance than traditional houses. This type of home has proven its efficiency and resistance to typhoons and there are about 2 million built across the ocean. However, in the US a house of this type costs from USD 80,000 up. Fuller especially created large-scale buildings, and his structures can sometimes have a diameter of 680 meters! I have studied it intensively and have come to the conclusion that this system can be designed, improved and built on a smaller scale, best suited to a regular dwelling.
What is unexpected in a dome house, compared to other dwellings?
With a rather small appearance on the outside, but generous space inside, the Natural Spaces Domes system has proven, more than anything, extraordinary resistance, reliability in terms of time and utility, and at the same time does not compromise on style and elegance.
The feeling of freedom, the joy and great advantages of living in such a home, modeled on a most ancestral ambient form − but thought for the third millennium − cannot be compared to anything else.
What are the benefits of such a home?
It is difficult for me to rank all the benefits. I would structure everything into three broad categories of advantages: first of all, major savings on the building materials, resulting in lower final costs. Then a significant reduction in maintenance and usage costs, energy costs. And third, the fantastic resistance to extreme weather phenomena and earthquakes. All these could mean a lot! I made it possible to use up to 40 percent fewer building materials than would be the case for an ordinary home. Another advantage that brings significant savings is that a dome house does not need a conventional foundation, only perimeter support! The dome can be mounted on simple foundations, made of wood, that can be thermally insulated. It can also be lifted on belts or concrete foundations or mounted on pillars, above the ground or on land that cannot naturally otherwise be used for the construction of a dwelling.
Is this an energy efficient home?
The spherical shape of a dome provides natural and efficient air circulation inside. It may seem incredible, but this house can be 80 times more energy efficient than a normal house of the same used surface! The dwelling that I designed is fully enjoyable and has natural lighting with lifetime advantages for the house in itself and those who live in it. On the other hand, it is well known that we are seeing radical climate changes and are increasingly confronted with extreme weather phenomena. Well, a dome can have an incredible resistance to external natural factors. For example, the dome can withstand earthquakes of up to 8.5 on the Richter scale! Furthermore, it became famous for the fact that, in tests, but also in everyday life, it resisted harsh winds and hurricanes of up to 320 km / h! What other type of construction could survive without major damage or without being completely destroyed?! The dome has been shown to be able to withstand loads of up to 20 tonnes at the point of structure.
What are its shortcomings?
There are shortcomings. Being a more prominent type of construction, the building method is unique. The materials used in geodesic dome buildings are rectangular, which requires cutting them to achieve triangles, and this increases costs. Also, the windows are more expensive than those of conventional buildings. Increased attention should be paid to waterproofing the structure and protection against precipitation due to the multiple existing joints. But all these disadvantages are fully offset by a multitude of advantages.
How much does your geodesic house cost?
Oh, this is a difficult question! It depends on many variables, but mostly on the owner's choices! Depending on the dreams, expectations and wishes of each client, quite large differences may appear. A 100 sqm house can cost from EUR 55,000 to 80,000 due to the finishings or the alternative energy systems chosen. A completely turnkey standard dome would cost EUR 55,000.
Have you found a skilled workforce, people trained to complete such unusual construction work?
Without passion, you have nothing to look for in this area! Therefore, I think that it is not the working hand that is important, but the passion to build such things. I try to incite this passion in my co-workers. You train them, you create a team, you form a kind of family and if you have this flame of passion to achieve something special… the impossible does not exist!
Is there a demand on the Romanian market for this type of home?
Yes, demand is growing, organic and growing.
What was your most important project so far?
This answer is quite simple: absolutely all the projects were important! I take them all seriously!
How do you imagine the housing of the future?
Organic, as natural as possible, made of membranes… Which will expand when we need more space and will narrow when we don`t.
Who is Alexandru Dinulescu, for those who haven`t met you yet?
I'm 36, married, with two little girls. As a construction engineer, I am meticulous and obsessed with efficiency, rigor and work well done. Passionate about everything new, the History of Art, SF, cinema, etc. I want to be able to build more and more of my projects. God blessed me with everything I dreamed of, and I dare you not to fear to follow your dreams and believe in yourselves!
About Alexandru Dinulescu
He was one of the beneficiaries of the RURAL-Entrepreneur project, developed by the National Foundation of Young Managers – FNTM during June 2010 – May 2012. The project had as a general objective the development of the entrepreneurial culture and the target group was composed of approx. 2200 entrepreneurs or future entrepreneurs from rural Romania.