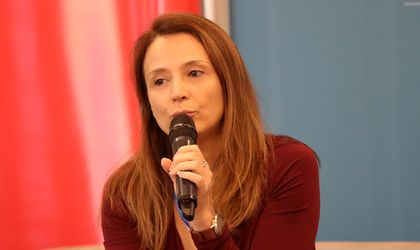 The workforce deficit still strongly affects many companies in Romania, said Oana Munteanu, Senior Manager People & Organisation at PwC Romania, at BR's Working Romania conference. But there is good news: the immigration trend will change in Romania's favour. 
Romania today is at the convergence of the deficit of low-skilled workforce and the need for highly qualified workforce. The deficit is due to high emigration rates, an inadequate education system and unattractive jobs.
"We are proud of the low unemployment rate, but that does not really reflect the level of inactive population. There is very little data available about a huge number of people in Romania whom we don't know nothing about – over 1 million. They might do undeclared work, be socially assisted or may engage in temporary migration. According to statistics,  Romania is in third place in the EU by the size of its inactive population. And this an area where we can potentially find new employees," says Oana Munteanu.
In order to keep the economy growing, we need 1 million new employees by 2022. The number is coming from the deficit recorded in 2018, of 0.7 million, completed by the 0.3 million people that will emigrate, according to last year's trends.
In the long term, the industries that will need the most workforce are professional services, healthcare, social assistance, education and administrative services.
At the regional level, a third of the employed are concentrated in the metropolitan areas of Bucharest, Timis, Cluj and Iasi. But there is still a huge need of workforce in cities like Brasov, Bucharest, Cluj, Oradea, Ilfov, Timis, Arad and Sibiu.
"At the opposite side we have places where the workforce supply is bigger than the demand, like Harghita, Mehedinti, Ialomita, Salaj, Teleorman, Vaslui, Vrancea, Bacau, Buzau, Galati," says Munteanu.
She also presented a report commissioned by the Coalition for Romania's Development, which found that the number of people that are not in education, employment or training (NEETs) is as high as 1.5 million, a level of 34 percent, which places Romania just below Italy (35.1 percent) and Croatia (34.4 percent) in the EU.
In order to avoid the increase of this deficit, the dual education system must be expanded, while workforce mobility inside the country must be stimulated. The infrastructure, healthcare, and education system must all be improved.
"A durable solution can be developed only through education and high quality medical services, as well as the improvement of infrastructure. These kinds of policies require a deeper analysis and should be subject to follow-up research," says Munteanu.  "It is also interesting that even in the digital age, the person that influences young people the most in their decision-making is their mother."
Companies need to work on an individual level in order to tackle the issue. And there is a need for change both at the company level, as well as the employee level – a change of mindset, since Romania is on the last place in the EU in terms of the adult learning level.
"Companies' main responsibility is to think of the skills of the future, and carry out development programmes to improve adaptability and acknowledgement of the uncertain future for employees – the state won't do enough to prepare us for this change, we have to do it on our own," says Munteanu.
There is also a category of people who are not taken into account when companies are looking for employees: those over 50-55 years old. This is a category that should be focused on more since it is cheaper than bringing people from other countries. "And we have to be aware that Romania is not the most attractive destination for outside workforce," says Munteanu.
"I am not very optimistic about the future. We will see a lot of the workforce being hired in high-value sectors, while the others will be in a much worse shape," says Munteanu.