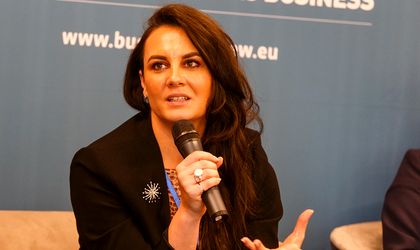 It is indeed a real fact that technology changes the way we work on a daily basis. Some may even argue that we face a "fight" between humans and robots, while some statistics show it clearly that it is the era of learning to cooperate better – be it human with human or human with robot (chatbots or technologies such as artificial intelligence [AI] or even robotic process automation [RPA]). In this new era, we need to re-learn to be more human than ever, said Lorena Furtuna, HR Manager at Oracle Romania, at Business Review's Working Romania.
"Statistics show that 66 percent of managers have become experts in avoidance tactics when they need to have crucial conversations with their team members.

This approach sometimes makes communication even more difficult, and all the help that can be provided to these teams, by modernizing internal operational or HR processes, will eventually enhance collaboration so that team members have more time to listen to each other's needs and concerns," Lorena Furtuna argued.
In today's business world, the most relevant and profitable results come from projects and teamwork, and not from individual input.
"While years ago companies could more easily plan their employees' development with classical or traditional career pathways, nowadays certain roles are disappearing, and the reconfigurable and dynamic teams become more important in reaching faster the desired business goals," she adds.
This means that communication habits among employees are also changing. And, for the future of successful work, communication in organizations must be facilitated to take place without pressure, in a collaborative ecosystem.
"We need to put the 'human' back in human resources and we must be more human than ever.

In today's evolving technology era, we are in the position to ensure we keep the human side are at the centre of the modern progress in the business world. And technology enhancements allow us to perform the softer duties of HR and help us develop our employees more broadly (focusing on their interests, growth, preferences and experience altogether)," says Lorena Furtuna.
During the conference, Catalin Chitu, Human Capital Management Solution Engineer at Oracle Romania, held a presentation about the HCM Cloud solution the company offers its clients. The app allows managers to "see the future" when it comes to their teams, with a Workforce Predictions feature that gradually learns everything there is to know about an employee and provides insights into their needs and possible work-related issues, allowing managers to take actions to increase their employees' satisfaction and prevent them from leaving or increase their productivity.
Also, according to Lorena Furtuna, solutions like HCM Cloud are sometimes implemented incrementally in companies, and implementing such solutions fully from the beginning provides even much better benefits to companies. The cloud-based solution gives managers new ways to work and communicate with their team. The app works on both computers and smartphones, so the team can keep in touch at all times.
"Today, in order to keep up, we actually need all the help we can get from diverse technological solutions, because these can relieve us of unnecessary or mundane tasks.

But at the end of the day, we also need to focus on the bottom line. And, as people, regardless if we are in the roles of managers or as colleagues, we have to show that we care," says Lorena Furtuna, emphasizing that the modern solutions connect people, but it is up to people to find the connection possibilities.