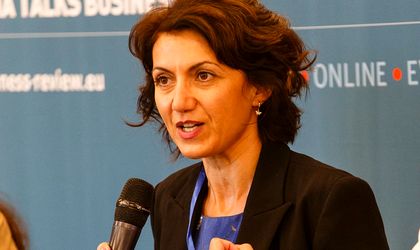 We talk a lot about flexibility and providing choice when it comes to healthcare, but the reality is that employees don't really know how to make the right choices, said Ana Maria Marian, the CEO of Intermedicas, at Business Review's Working Romania conference.
There are many categories of services in the medical field and it is not easy for a patient to understand where they should go or what to do only through a Google search.
"From my 16 years of experience in healthcare, I've learned that patients have a hard time knowing where to go because Google can't tell us what doctor we need to see. Lately, there are two trends I've seen growing: medical services becoming a commodity – things that people think are cheap are actually very expensive – while the quality of medical services is going down," Ana Maria Marian explained.
When it comes to the commodification of medical services, HR people and healthcare providers need to work together to make people understand what medical benefits mean. As for the second issue, the responsibility falls on the service provider.
"For example, it is very difficult to expect a high quality service when a medical subscription costs EUR 12 per month. For paying customers, you can't even pay for one consult with EUR 12," Marian argued.
What she noticed is that when people have insurance or a monthly subscription, they tend to go to the doctor more often than they need, and that is also because they don't know which type of doctor they should see for a certain problem.
"There are four major problems people experience when it comes to visiting the doctor. The first is the long wait time to get an appointment. The second is the duration of the consultation, which many times is much shorter than the patient had expected. The third is the question of who you should call when you have a medical issue (it should be your GP). Lastly, it's the process of going from one doctor to another to get to the right specialist – in this case, although the patient is to blame sometimes, there are also instances when doctors are incompetent and just send the patient elsewhere or they may send them for unnecessary tests to get a commission.
I believe in a functional system at the primary care level – family doctors, general practitioners who can establish a direct relationship with the patient, solve their problems when they can and send them to see a specialist only when necessary," Ana Maria Marian said.
The system should work like a medical concierge, where patients have access to several clinics, but everything is linked. The concierge doctor knows the patient's history and preferences and patients no longer need to do Google searches and guess their diagnosis as their doctor is immediately available.
The company Ana Maria Marian leads offers Second Opinion medical services with the guarantee that the second opinion comes from the best in the field. And even if that implies a huge amount of work from the company, it is their job to provide the best care for the patients.
"We need a partnership in order to make healthcare work. We are used to having patients know which doctor to go to, but that is not always the case," she concludes.