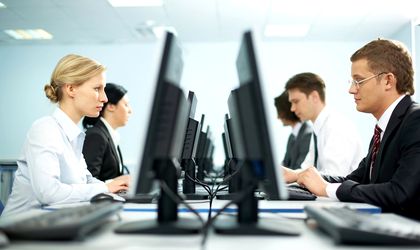 More than three quarters of Romanian employees (76.5 percent ) are not satisfied with their workplace and more than a third think they should be earning more money (34.4 percent), according to the latest study conducted by eJobs.ro, an online recruitment platform. 
"Sales are the area that most Romanians would choose if they were to take it from scratch and make a career change," says the study.  Human Resources, Logistics, Transport and Distribution are a short distance away, followed by IT.
"Certainly, IT will increase significantly in the coming years, and yet there is a perceived barrier that it is a very difficult field to access. In reality, it is not, and indeed has become a viable option to convert professional training for those who are attracted to this field, regardless of age or previous professional training," said Bogdan Badea, eJobs Romania CEO.
Employees invest in themselves
Romanian employees are increasingly aware of the need to make a career change and to keep up with the dynamics of the labour market through learning. Employees overwhelmingly appreciate the fact that the company is willing to invest in them, which was expected. What was unexpected was the very high  percentage (69.5 percent) of those who would be willing to pay for such courses themselves. This means that not only would they like to change their job or field but also that they are actually preparing to take this step and even to invest in this," Badea explains.
According to the study, most (87.6 percent) would pay between 100 and 300 euros for a course that can provide them with the skills needed to get a better job. 8.8 percent would pay between EUR 300 and 500 for the same purpose, 2 percent between EUR 500 and EUR 1,000, and 1.5 percent of respondents would be willing to invest more than EUR 1,000 for training courses leading to a change of career path.
Millennials: all demands, but no skills?
"Millennials have very high demands and claims, even if they have no work experience. But they are actually the generation that are asking for the things everybody has always wanted, but has not had the courage to ask for them. Should we just label millennials as people who want too much or listen to them and see what they want? The truth is somewhere in the middle, because not all of their claims are exaggerated," said Dan Puica, the CEO of BestJobs, in a presentation at BR's Working Romania Conference on Tuesday.