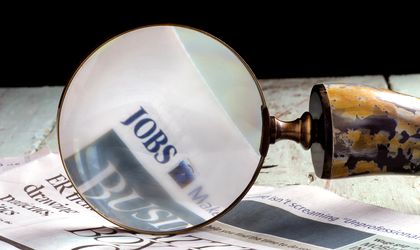 With an unemployment rate standing at less than 2 percent in Romania's largest cities, entrepreneurs are facing major challenges in recruiting the right employees. While large companies can provide a generous benefit package and comfortable offices, what startups are bringing to the table are flexible work schemes, fast-paced environments and hopes that some of the initial employees will become rich if they stick around long enough for the company to go big.
The labour market in Bucharest has overheated, with the unemployment rate having dropped to 1.29 percent as of November 2019, according to data from the Labour Ministry. The Romanian capital generates 25 percent of the country's annual GDP and hosts the headquarters of some of the largest entrepreneurial companies and multinationals.
For founders looking to grow their startups, there is little room for mistakes as a string of recruitment errors could jeopardize the future of their firm. "For startups, competing with large employers in attracting talents is definitely challenging. Large companies generally have the recruiting power, employee benefits, employer branding strategies and employee motivation initiatives to make themselves very attractive for skilled workers. But what startups lack in terms of size and value proposition they make up through flexibility and a way of working that is better adapted to the new generations of employees that larger companies simply cannot match," Dan Puica, the CEO of jobs portal BestJobs, told BR.
From startup to corporation or the other way around
Although startups and large employers are targeting roughly the same talent pool, the real differentiator might be the capacity of skilled candidates to show how they can make a difference in the company, regardless of its size, says the head of BestJobs.
"Because today's talents want to align themselves to companies with strong cultures and values that resemble their own," says Puica.
Young employees might work at a startup and move to a corporation, while experienced specialists that have worked in large companies for decades could choose to open their own businesses. There is no clear pattern, and each person's personal and professional expectations could play decisive roles.
"For many young people, the startup is the way to learn what you need to know in order to be able to work in a corporation. Startups provide young people with knowledge, flexibility and the chance to develop ideas in their areas of interest. But they don't necessarily provide structure, and in many cases they lack financial power. At the same time, the lack of structure is also a positive factor for those who are self-motivated and more interested in making their mark on the world," says Cristian Dascalu, partner at Gapminder and Techcelerator co-founder. Gapminder is a venture capital fund that has made early stage investments in dozens of Romanian startups.
Nonetheless, Dascalu says that it is "very difficult" for startups to attract young professionals or seniors. This doesn't mean that entrepreneurs can't fill the ranks in their startups.
"On the other hand, seniors may be attracted by startups especially due to these reasons: flexibility and the chance to do things in a faster and more ingenious way than they could in the corporation where they previously worked. After 10-15-20 years in corporations, senior employees want to still have a career but, at the same time, they need the perception of 'freedom'. They want to have a bigger sense in life and be better aligned with their beliefs, something which they are more likely to obtain in a startup," says the Gapminder partner.
Some say that the "know-who" and the "know-how" in an industry are crucial for employees who want to start their own business.
"I always say that in order to convince talents to join your team, they need to be willing to listen and look beyond the job to see the bigger picture and be active in a company where they can make a difference," Andrei Avadanei, CEO of cybersecurity company Bit Sentinel, told BR.
In the tech field, the competition for skilled workers is particularly fierce. The high demand for talent has also driven an increase of the labour market. Some 160,000 people were employed in the ICT field in 2015, and by 2018 it had soared to over 190,000, according to Eurostat, the statistics office of the European Union. Companies in the technology field are continuing their recruitment efforts, which in turn have led to an increase in wages. By November 2019, employees in the technology sector had a net average wage of RON 7,610 (close to EUR 1,600) per month, making them the best-paid in the entire economy, according to the National Institute of Statistics.
Meanwhile, startups that can speak more about their projects and the work environment could become more attractive for new employees.
"And CEOs should not forget to present their ideas and projects to people. For example, in the tech sector, where the salary is no longer a distinguishing feature, people leave or choose companies due to the projects in which they are involved or to the programming languages they have to learn or use. We are in an era when people are increasingly seeking learning opportunities rather than high salaries. Because learning new things can lead to a better career and a higher income, and ultimately, to the personal accomplishment of being part of a successful and healthy journey," says Dascalu of Gapminder.
Large companies are trying to mirror the workflows of startups in a bid to harness innovative ideas. In addition, some corporations are operating their own venture capital funds and making risky investments in new ideas, just like conventional VC players.
"Furthermore, corporations with an intrapreneurial culture can benefit from their employees' creativity and leadership skills, and help them grow within the organisation. As part of the same community, startups and corporations can have a mutual understanding on what motivates that community: the power that brings people together in a startup, fired up by the desire to combine different skills to solve a problem. To see a need and fill it, which is, ultimately, the heart of the matter in entrepreneurship," Andreea Moldoveanu, executive manager of Innovation Labs, told BR.
Startups winning the recruitment challenge
Local food delivery platform Petisante launched at the end of 2019, following an initial investment of EUR 500,000. The company has 15 employees working in its distribution, cooking, marketing, and call center departments.
"Given that our location is at the edge of Bucharest, one of the recruitment criteria was proximity to the workplace. So we looked for people living nearby, because they have a stronger desire to work with us, but we are glad if a person living further away chooses to work with us," Mihai Irimia, the founder of Petisante, told BR. Until now, the company has used online recruitment platforms to post jobs, but Irimia says that he might hire a person through a recommendation as well.
"I have already formed the team I am working with in the kitchen and I am glad that I could find specialists in Romania, without needing to recruit people from abroad," says the founder.
Elsewhere, Cristian Toanchina, the co-founder of on-demand laundry service Drop&Go, says the startup launched with five employees. "Our plan is to have a salary system that is based on performance, so as to keep employees interested," Toanchina told BR. He says that removing caps on earnings is one way of having efficient employees.
Motivating employees
Vitacom Electronics has around 100 employees and carries out yearly surveys to gauge employee satisfaction and to design its promotion strategy. Aviva Vita, the Romanian company's PR & Marketing manager, says that the flexible work schedules and the various internal events designed to consolidate teams are things that motivate the staff.  Furthermore, the firm is also providing other perks, such as private medical packages and private pension schemes. The company has been able to maintain a stable headcount in the past year. "We also try each year to keep the level of pay in line with the evolution in the areas in which we operate, through various studies, so periodically we upgrade the benefits package for all employees," the manager told BR.
Elsewhere, ContentSpeed, the provider of an eCommerce platform for online stores, is looking to hire more consultants this year to implement the company's technical solution for more customers. Currently, the company has around 30 employees.
"We are constantly recruiting and we have our own HR specialist. We are now moving to a bigger HQ with all kinds of facilities that are popular among the young. In addition, we have a core group of managers and senior programmers who have been with us for years," Dragos Vilceanu, business development manager at ContentSpeed, told BR. The company is investing in training programmes and new technologies to keep employees motivated and maintain a competitive edge on the market.