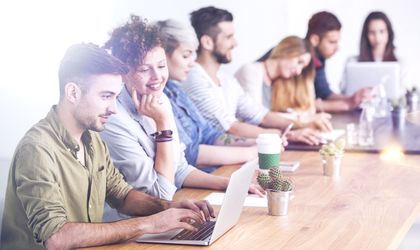 Over half of Romanian employees are planning to request a salary increase or look for a new job by the end of this year, with insufficient earnings as their main source of dissatisfaction, a survey conducted by online recruitment platform BestJobs shows.
Six out of ten respondents stated that they were planning to actively seek another job, and another 7 percent were considering this possibility. A quarter of respondents said they would not look for another job, but if they received a better offer, they would certainly accept it. Only less than 4 percent of respondents strongly stated that they were not interested in any other job, as they were satisfied with the current one.
Even if they aren't able to find another job, 55 percent of the respondents say they are going to ask for a salary increase of at least 20 percent. Another 17 percent are uncertain whether they will do so and only 28 percent say they do not intend to ask the employer for more money.
The interest for a job abroad remains high, given the much higher wage levels in other countries. Two out of ten respondents intend to seek a job abroad by the end of the year, and 22.3 percent do not exclude this option.
Most employees (44 percent) would resign if they could find a salary between EUR 500 and 1,000 somewhere else. Three out of ten employees (30 percent) would immediately quit their current job for a salary between EUR 1,000 and 2,000, while 12 percent would change the job tomorrow for a salary above EUR 2,000. Only 14 percent of respondents stated that they would not resign just for money.
The main reason that would keep employees from changing their jobs is having worked in a team that they are very attached to (25 percent). For the other 16.8 percent, the main reason why they would keep their current job is that the office is close to home. Almost all of them are afraid of getting a job that is worse than their current one, and 12.7 percent are restrained by the few jobs available in their area.
The survey was conducted between 1 and 13 September 2019, on a sample of 1,105 internet users.