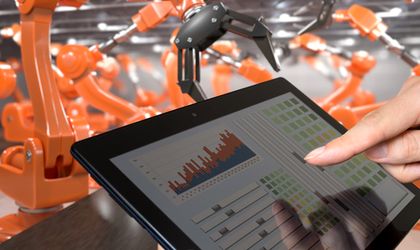 Over half of Romanians believe that their job could eventually be taken over by robots and automation, but they see certain professionals as irreplaceable, including priests, artists or psychologists, according to a survey by BestJobs.
12 percent of Romanians are concerned about robots and automation displacing them from their jobs soon, in the next five years, while another 14.6 percent see it as a possibility in the next 5 to 10 years. 11.3 percent think their roles could be automated in 10-15 years, and 14  percent say that it would take at least another 20 years for that to happen. The rest (48 percent) don't think that automation could ever fully take over their jobs.
The survey also found that three out of five Romanians believe that robotisation and the development of the applicability of artificial intelligence will lead to a much higher increase in salaries for high-skilled jobs than for low-skilled ones.
70 percent of Romanian employees also believe that the advancement of technology will lead to higher unemployment, especially for low-skilled work, as well as a wider wage inequality which will lead to more social inequality.
Two fifths of  Romanians believe that robots and AI will lead to a reduction in roles that need humans over the next 20 years and only 6 percent believe the opposite, namely that more jobs requiring human resources will be created in this time. More than half (53 percent) say that we will not see significant changes in this period, with some jobs disappearing but being replaced by new ones.
However, there are certain roles where Romanians think humans could never be replaced by robots: these, in order of the share of responses, include priests, artists, psychologists, doctors, politicians, journalists, teachers, engineers, police officers, drivers, pharmacists, cleaning personnel, accountants, and cashiers.
Asked whether they would like to see certain jobs being taken over by robots: public servants, agricultural pickers, cashiers, cleaning personnel, salespeople, politicians, drivers, accountants, bank tellers, police officers, surgeons, lawyers, and teachers.
Almost 2 out of 5 Romanians say their jobs involve equal amounts of repetitive/standardized work and creative/leadership work, while 15 percent say their work is mostly repetitive/standardized, and that it could be automated or replaced by artificial intelligence. In contrast, 46 percent responded that they did creative/leadership work that could not be automated or replaced by artificial intelligence.
Standardized tasks, which can be done automatically, take up a part of everyone's workday. Almost two out of five (38 percent) people spend up to 2 hours a day on repetitive operations, 16 percent spend between 2 and 4 hours a day, while almost 16 percent spend even more time on them.
In this context, it is no surprise that more than three out of five employees (61.5 percent) say they are only partly using their professional capabilities and could do more. Less than one third (31.5 percent) believe that their skills are being used to their full capacity, while about 7 percent say they are not using their professional skills at all.
Until their jobs are replaced, most Romanian employees see an ally in technology and believe that robotization/automation could help them perform their tasks at work. Asked what would be the three main advantages of automation, Romanians think that it would first help them to save time so that they can focus on the creative side, (45.3 percent). 43.3 percent think that it would help them get rid of repetitive, inefficient tasks and focus on what's important. Almost 22 percent say they can perform their tasks more quickly and easily, and another 21 percent think they would make fewer mistakes. On the other hand, about a quarter of respondents said robots/automation would not help and possibly even cause more trouble.