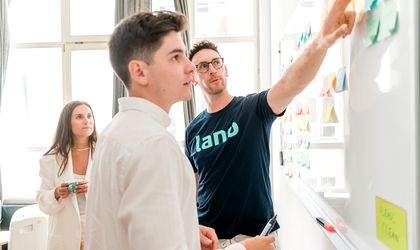 Whether it's opening a new entity or hiring talent from around the world, expanding your business to a global level can be beneficial in many ways. But unfortunately, expanding internationally also comes with a lot of challenges and legal hurdles that can turn your expansion into a paperwork nightmare. Luckily though, there are companies that take care of the process for you: employers of record legally hire talent for you, while you still retain the day-to-day activities of your new employee. Not sure if this is the right solution for you? Here's when you should consider an employer of record.
The advantages of hiring global talent
Talent knows no borders, so why should you limit your business by only hiring people from one place? In fact, different perspectives and work experiences from your employees might be the secret ingredient to unlocking your full potential and getting your business where you want it to be.
Allowing your employees to work wherever they want will also make you an even more desirable employer and attract top talent from all over the world. Keep your employees motivated by increasing their flexibility and freedom!
And finally, hiring global talent will make entering new markets a lot easier and allows you to rapidly scale your business to quickly react to global changes.
The hurdles of expanding internationally
Unfortunately, the process of hiring people from a different country is not always easy. If you hire a new employee, you are legally responsible to pay taxes and social security benefits like health insurance, retirement payments, or unemployment insurance for them. 
The problem is, if your new talent doesn't live in your country, you have to make these payments in your employee's country of residence—and this is often only possible if you own a legal entity in the respective country, which requires a lot of paperwork and financial investment.
The solution: Employer of Record
You can skip the headache of figuring out how to employ global talent by working with a third party that offers a global employment solution. As an employer of record, this company will function as the legal employer, while you still retain the day-to-day activities of your new employee. 
The employer of record makes sure that all local legal requirements for your new employee are in place, including paying taxes and social security benefits.
When to consider an Employer of Record
There are many reasons why a global employment solution might be the right choice for you, but generally speaking, there are two main scenarios in which outsourcing the global hiring process will be beneficial for your business.
1. You aren't familiar with local employment laws
If you hire someone in a different country, you are legally responsible for ensuring their contracts are fully compliant with local labor regulations. For example, you have to include the right legal notice period for contract terminations, which varies from country to country. If you fail to provide a compliant contract, you can be subject to fines and other punishments.
Employers of record will take care of compliance issues for you and are also legally responsible for the contracts, therefore eliminating any risk for you when hiring global talent.
2. You have never hired international talent before
Another good reason to use an employer of record is if you have never hired international talent before and are new to the intricacies and complexities of things like global payroll. Salary expectations vary rapidly from country to country and in some places, there might be specific requirements you need to consider, such as annual bonuses or holiday compensation. 
Naturally, researching all these individual regulations and laws will take a lot of time and effort and are subject to easy mistakes. Again, a global employment solution reduces your risk by being legally responsible for your talent's hiring process.
Don't let borders stop you from expanding globally
If you want to internationally expand your company and hire the best global talent to scale your business, working with an employer of record might be the right path for you to reduce risk while still benefiting from the many upsides of a global workforce.
Lano offers a global payment solution, allowing you to manage both international freelancers and full-time employees through our platform. You can easily access your employee's contracts, pay invoices in different currencies, and sleep peacefully at night knowing that compliance and payroll are well taken care of by Lano as your employer of record. 
If you are looking to explore your hiring options with an employer of record, contact Lano with the link provided and benefit from up to 20% discount when hiring your global team (T&Cs apply): www.lano.io
Photo: dreamstime.com