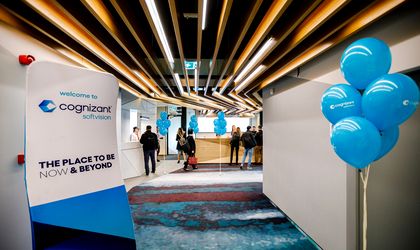 Cognizant Softvision announced the opening of a new studio in Timisoara, Romania. Located in the sought-after business district of the Banat region, the new studio is in United Business Center 0, part of Iulius Town Timisoara.
With more than 2100 mp, Cognizant Softvision's new studio is fully equipped and ready to welcome all local employees to a great new experience. In addition to providing spectacular panoramic views of the city, the studio also offers associates optionality and the benefits of working together in collaborative and creative spaces, or smaller spaces for more individual, heads down activity.
"Our Studio eXPerience model takes a human centric approach, both with clients and with employees. We bring our people closer to our product development, while also tearing down the typical walls that exist between delivery and talent. This new studio is the best upgrade you can get if you want to work from the office in Timisoara, and we are delighted to be here – this really is The Place To Be! Now & Beyond, as our Employee Value Proposition states," says Raul Petrascu, Head of Communities Romania & Timisoara Studio Manager.
Cognizant Softvision – 10 years in the local market
This year, the company also marked its ten-year-anniversary in Timisoara. To help mark this occasion, employees celebrated the milestone together and looked back fondly on the past decade together.
"We're fortunate at Cognizant Softvision, in that we've built a very vibrant culture over 24 years in Romania, and it's an honor that this year we also marked an amazing 10-year milestone in Timisoara. Ten years ago, we started small with few ideas and a few people in Timisoara, and we grew organically, building a strong community passionate about technology and innovation. Since we were acquired by Cognizant in 2018, we've worked hard at building and maintaining a culture that goes beyond what's expected, and also extends to other Studios and regions within the global network," says Mihai Constandis, Country Manager Romania, AVP, Community Head Europe (GGM – Global Growth Markets).
The local team is growing
In addition to celebrating its milestone this year, senior leadership also talked about plans for future growth in the region. In Timisoara, as well as across Romania, employees are collaborating globally with colleagues in the United States, Argentina, India, Australia, and everywhere in between, working on interesting projects for world-class brands.
Our specialists deliver transformative solutions for all industries like banking and financial services, insurance, pharma and health sciences, automotive, and retail. You can explore more in our tech communities pages.
In Romania, the company has studios in Timisoara, Cluj-Napoca, Bucuresti, Iasi si Baia Mare and over 2500 employees.
"We constantly hire passionate people, and now in our Timisoara hub we have nearly 400 employees, including colleagues that only work remotely in cities like: Craiova, Arad, and Hunedoara. We actively recruit professionals from all technologies, from Java, to Full Stack Web, .NET, DevOps, Mobile, QA, as well as Business Analysts, Project Managers, etc. We're recruiting across Romania right now with the understanding that people do not need to physically work in our studios. We empower them to choose a hybrid work experience that best fits their life and their lifestyle," said Raluca Dolan, HR Director.
To apply for open roles click here: