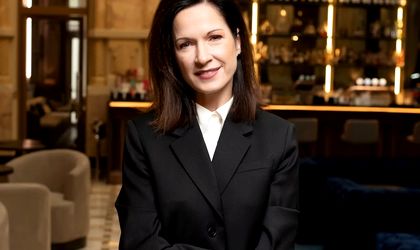 With 20 years of knowledge and experience in the international hospitality industry, Ausra Lucinskaite, the new General Manager of the 5-star Marmorosch Bucharest, Autograph Collection Hotel, commits this year to concentrate the company's efforts and investments in shaping strong, creative, and highly trained hospitality professionals within the hotel.
"The most important aspect for me is to have alongside a satisfied team. The hospitality industry is about people and passion. We must put behind us the last two years of uncertainty, struggle and giving up. Now, more than ever we must transform the negative into positive. And this can be achieved together with people, with teams that must be encouraged to see again what the hospitality industry stands for, what are its core values and principles. This industry is about caring for others. My objectives at Marmorosch Bucharest eye investing in People, offering them my support and the best valuable, team-oriented work frame.", said Ausra Lucinskaite, General Manager, Marmorosch Bucharest, Autograph Collection Hotel.
As the pandemic reshaped business models, customers' and employees' behaviour, the global hospitality industry has been further impacted by the loss of professionals.
In this context, following the successful opening of Marmorosch Bucharest, Autograph Collection last year, main concern and focus of the management team for 2022 is to build a strong hospitality professionals' team, based on the real needs of the employees: presence of work-life balance, regular training programs, management team meetings, best working conditions.
In this regard, Marmorosch Bucharest offers a premium hotel designed to incorporate all the aspects that drives guest engagement and attract professional skills.
Since Ausra Lucinskaite took over the new position in November 2021, following consolidated management expertise in premium hospitality industry in London and luxury in Baltics, Marmorosch Bucharest registered 20% increase in number of new employees.
In terms of occupancy rate, Marmorosch Bucharest peaked year-end. On December 31, 2021, the hotel had an 80% occupancy rate, overlapping with the high interest of the guests over the New Year's Eve event.
As things developed fast in the last months, the hotel is currently running a program for hiring Ukrainian refugees, thus supporting civilians in need and, once again, resuming the company's values of putting people first.
"It is heart breaking what is happening in Ukraine, however remarkable the unity proved by the entire world. This act of solidarity will mark the human history and transform into a humanitarian shield for many years to come. Marmorosch Bucharest will always support those in need. This brand is about People, as the people animates a brand. We all hope this conflict halts, and we will stand by the Ukrainian refugees and help them for as long as is necessary.", added Lucinskaite.
As additional proof for what Marmorosch Bucharest, Autograph Collection stands for, the hotel has been included in the TOP 20 Quality Autograph Collection ranking for EMEA.