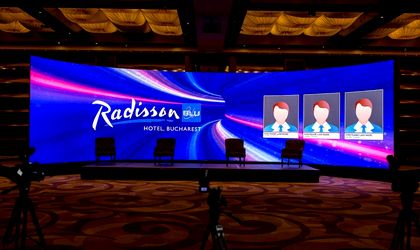 Radisson Blu Hotel, Bucharest announced in September 2020 the launch of its new Hybrid Solutions incorporating Hybrid Rooms and Hybrid Meetings. In 2021 Radisson Blu Hotel, Bucharest is further extending the hybrid solution by converting one of the meeting rooms into a studio thus becoming the only hotel in the country to be equipped with state-of-the-art video technology that offers unparalleled digital visual experiences.
Radisson Blu Hotel, Bucharest Hybrid Studio Events Solution combines the best of key elements for a meeting in person and virtually, offering a high scale image, 14/3,5 meters wide LED screen, sound and video conferencing system, live transmission with branding solutions, high-speed internet connection, solutions for interconnecting meetings or different platforms and more. As the world continues to adapt to "new normal" and ongoing travel limitations, organizers can now choose to offer virtual high end participation options and hybrid formats that allow for small local gatherings, while also broadcasting to remote attendees and satellite locations.
Sonja Dive-Dahl, General Manager at Radisson Blu Hotel, Bucharest said: "Inspired by technology and the demands of a new, more flexible, remote way of doing events, we are thrilled to extend our offering with Hybrid Studio Events Solutions. We also remain committed to delivering a clean and safe environment with maximum hygiene standards to protect our guests, team members and partners at Radisson Blu Hotel, Bucharest."
Radisson Blu Hotel, Bucharest has partnered for this project with Event Technology AV, one of the main players in the audio-video equipment rental market in Bucharest. Event Technology AV is one of the few providers that already has experience with over 150 such events since the beginning of the pandemic, a market severely affected by health restrictions.
Dan Gavrilovici, Managing Director of AV Technology Event said: "The technology we use is unique in Romania, thus, Radisson Blu Hotel, Bucharest has become the only location in the country that benefits from a next generation screen with high refresh rates and blackface LEDs, which offer unparalleled digital visual experiences. Customers also have an impressive flexibility of use thanks to the 8K video direction from Analog Way, which allows us to split up to 8 4K programs and 12 2K programs. This set-up paves the way for a new remote event experience that will impress Radisson Blu Hotel customers and partners in Bucharest."
Specialist in-house event teams will assist clients in delivering a range of events from hybrid multi-site meetings to broadcasting events, ensuring events are efficient, effective, and engaging, with flawless execution.
Health and safety first: Radisson Hotels Safety Protocol
More than ever, Radisson Hotel Group's highest priorities are the health and safety of its guests and employees. In May, the Group partnered with SGS, the world's leading inspection and certification company, to implement the Radisson Hotels Safety Protocol, which ensures the highest hygiene standards and strengthen the Group's existing rigorous sanitation guidelines.
These guidelines include hand sanitizing stations at all entrances, the use of Personal Protective Equipment (PPE) and protective screens, enhanced cleaning frequency, and comprehensive staff training. The new guidelines have been already implemented at Radisson Blu Hotel Bucharest.