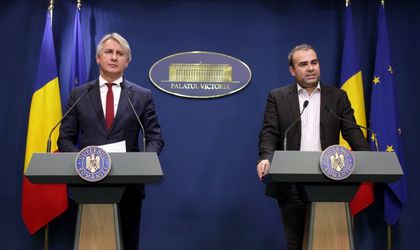 The Government has approved on Friday, in spite private environment's opposition, a ordinance that brings significant fiscal changes starting 2019. One of the most controversial new tax that has been approved through this ordinance is the tax on bank assets, the so-called  "tax on greed". According to the minister of Finance, Eugen Teodorovici, the "tax on greed" will depend on 3-month and 6-month ROBOR levels, being between 0.4 percent for ROBOR between 2 and 2.5 percent, 0.6 percent – 2.5-3 percent – and 0.9 percent – between 3 and 3.5 percent.
The measure was approved in spite of The Nationals Bank's and financial system's opposition. A new 2 percent turnover tax will also be applied to energy companies. The two most hit businesses are stated owned companies. The Power Industry Oltenia, the biggest coal energy producer in Romania will finish 2018 with a loss of RON 975 million. The new tax will add an additional payment of RON 85 million in the company's budget. Transelectrica, the company that holds monopoly on energy transport, has reported a RON 0.5 million losses in the thrid quarter of 2018. The new tax will add an extra RON 15 million spending to the company's budget.
The government also approved for gas price to be capped for three years at RON 68 per megawatt/hour. The most affected are the companies who explore offshore gas in the Black Sea- OMV Petrom and Black Sea Oil & Gas. The two companies announced that they will decide next year if they will continue investments exploitation.
Experts say that capping internal natural gas prices will hit hard the two main gas producers in Romania, Romgaz and OMV Petrom, and will limit investment in gas fields, while the advantages for retail consumers are only for short term. EU competition legislation bans such practices and energy directives impose a liberalization of gas prices, which Romania had already done by April 2017. Romania is risking infringement procedures by the European Commission. Some experts also argue that such a measure will favour gas imports from Russia. Households in Romania paid in 2017 the lowest prices for gas and the fifth lowest prices for electricity among the 28 European Union member states, according to Eurostat. According to Petrom the measures will take the Romanian gas market back at least 10 years in time, to a regulated market, and away from liberalization. Investments play a fundamental role in generating future growth. In the absence of a well-functioning economy, investments, supply, jobs and economic growth are all threatened.
After more than a decade, the National Regulation Authority in Communications will again charge communications operators for monitoring,  from 0.4 percent to 3 percent of the companies' turnovers. The Government has also set a EUR 1 billion threshold for the 5G  auction. In a joint statement, Orange, Vodafone, Telekom – together with the Romanian Mobile Operators' Association (AOMR) – RCS & RDS, UPC Romania and more than 65 companies reunited within the Association for Electronic Communications in Romania (ACER), say that the measures announced by Finance minister "would turn into a burden for the entire Romanian telecommunications industry and for all fixed and mobile Internet users, fixed and mobile telephony and television services."
Pension Pillar II will have to bring an extra capital of EUR 400 million  quarterly in order to pay the tax on green. The ordinance also sets a minimum wage of RON 3.000 for construction workers starting 1th of January 2019, along with cutting in half all labor taxes for this economic field.