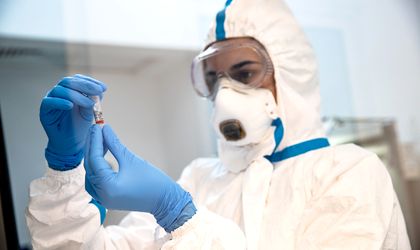 REGINA MARIA Healthcare Network initiates the first study to evaluate the body's immune response to vaccination against COVID-19. At the beginning of this year, the World Health Organization (WHO) approved vaccines that have proven their efficacy and safety against COVID-19. The vaccination campaign has started successfully in Romania as well. The next step is to monitor how protected the vaccinated population is against SARS-CoV-2 infection. REGINA MARIA aims to evaluate the dynamics of post-vaccination antibodies with the scientific support of Professor Victoria Aramă, PhD.
The vaccination campaign in Romania is a success, with over 500,000 people vaccinated so far. Romania ranks in the Top 6 in Europe in terms of average daily vaccines. Approximately 2.5% of the population in need of vaccination has already been vaccinated and estimates show that 10.4 million Romanians will be vaccinated by the end of November.
In a first stage of the study, REGINA MARIA will test a sample of 300 employees who have already been vaccinated against COVID-19. The measurement of the antibody titer will be performed one week after the second dose of vaccine and will be repeated at an interval of 3 and 6 months respectively, according to a schedule also applied for testing the vaccine efficacy in clinical trials. To monitor the post-vaccination course, the level of anti-SARS-CoV-2 antibodies will be measured using one of the most advanced immunological testing methods.
"Currently, electrochemiluminescence is the most advanced technology in immunological testing. With the help of this ultra-sensitive and reliable method, specific anti-SARS-CoV-2 antibodies can be detected with the greatest precision. This testing method has a sensitivity of over 97% and 98% specificity, without interfering with other types of coronavirus. In the end, we want to come up with a data input that highlights the dynamic evolution of the antibody titer obtained after vaccination against COVID-19", says Dr. Andreea Alexandru, Primary Laboratory Physician and Medical Director at REGINA MARIA Clinical Laboratories Division.
The study will allow the dynamic analysis of the evolution of the level of antibodies obtained after vaccination. This approach complements the study conducted last year by REGINA MARIA Healthcare Network, which investigated the immune response in patients infected with the new coronavirus.
The study conducted by REGINA MARIA Healthcare Network between August and September 2020 provides important data on how the form of the disease or the age of patients cured of COVID-19 influence the development of a detectable immune response. The results indicated that 79% of the infected patients showed detectable antibodies at the time of testing.