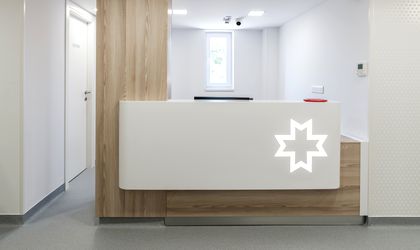 REGINA MARIA Health Network has taken an active role in the national immunization campaign as early as January, immunizing its own employees (medical and auxiliary staff), as well as providing the authorities with 30 vaccination flows in REGINA MARIA's centers operating in Bucharest, Brașov, Cluj, Iași and Sibiu, as well as at the headquarters of some of Romania's largest companies.
REGINA MARIA vaccination centers are open 12 hours a day and have a total vaccination capacity of 2,000 patients/day. So far, REGINA MARIA teams had over 100,000 vaccinations.
So far, the total value of investments stands at over 1 million Lei and consists in setting up vaccination facilities, safeguarding all the healthcare professionals involved and providing the materials required for vaccination.
"After being the first to introduce RT-PCR testing at national level in 2020, getting involved in the national vaccination campaign was the natural thing to do. We want to be part of the solution. We've always wanted to support the communities we are part of. The large number of vaccinations in our venues confirms the significant operational and financial effort we undertake. We all want the pandemic to end, and I believe that only by acting together, with responsibility and solidarity, can we achieve this goal", Fady Chreih, CEO of REGINA MARIA Health Network said.
REGINA MARIA is carrying out far-reaching vaccination campaigns addressing the employees of some of Romania's largest businesses, by means of dedicated centers, but also via mobile teams deployed to the companies' HQs. Over 50,000 employees in counties such as Cluj, Brașov, Sibiu, Iași, Timișoara, Tulcea, Dâmbovița and the capital city Bucharest can benefit from free-of-charge vaccination.
In early May, REGINA MARIA opened the first vaccination center for its subscribers in Bucharest at Aviației Clinic. Companies that want their employees to get immunized against COVID-19 are provided with full-service assistance, from signing up on the online platform to the vaccination process itself. Over 1,400 doses of the Pfizer vaccine are available on a weekly basis in this dedicated center.
Moreover, in partnership with Continental Sibiu and the local authorities in this city, REGINA MARIA has been providing vaccination services in a center opened in March on the factory's premises. So far, REGINA MARIA has immunized 11,000 people in Sibiu, including Continental employees.
"Solidarity is one of the values our company lives by. Ever since the start of the COVID pandemic, we have been supportive of the local municipality in its efforts to prevent the spread of COVID-19, and I am glad to have found in REGINA MARIA the partner we needed in order to protect our workers' health. Together, we set up a RT-PCR testing and Quick Testing center and an on-site clinic at our factory in Sibiu, as well as this public vaccination center, which provides both our employees, as well as the general public, with the possibility of getting the anti-COVID jab", Lăcrămioara Dărăban, Human Resources Director at Continental Sibiu explained.
REGINA MARIA has joined a number of large employers as part of the anti-COVID-19 vaccination campaign, including Arctic, Bosch, De'Longhi, Stabilus Romania, Vitesco Technologies, Premium Aerotec or Vard Tulcea Shipyard.
Over the coming period, the Health Network will be opening new vaccination flows addressing tens of thousands of employees across the country.