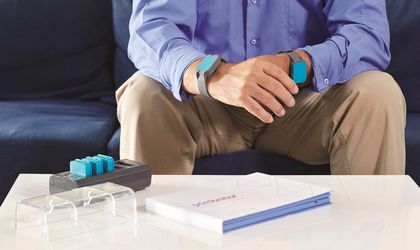 PD Neurotechnology, a MedTech start-up for patients suffering from Parkinson's Disease, the second most common neurologic disease in the world, is targeting €500.000 in the financing round opened by SeedBlink, the European co-investment platform in tech startups.
This €5.000,000 Series A round is led by CIC Capital Partners, the co-investment from CIC Capital Partners & BigPi is of €4.500,000. The PD Neurotechnology's pre-money valuation is of €30.000,000.
The funds raised in this investment round will be used for manufacturing purposes, clinical trials and to boost business development in new markets.
PD Neurotechnology is providing people with Parkinson's Disease and other movement disorders with affordable, easy-to-use medical wearables and advanced AI software for monitoring and treatment, which can be applied at home or in non-clinical settings. The PD Neurotechnology's team includes 40 specialists in biomedical devices, neurology, healthcare, logistics, artificial intelligence and Parkinson's
Disease, and has a world-class advisory board of leading neurology and Parkinson's disease scientists.
PD Neurotechnology's first product, PDMonitor, is a CE marked class IIa medical device, consisting of monitoring devices/wearables, which capture and show raw motion data from predefined body locations, a Smart Box, which processes motion data and extracts PD symptoms, and a PD Monitor Cloud, which merges symptoms and mobile app input into a powerful knowledge base, thus making patient management more effective. The Physician tool is a powerful disease management tool and electronic patient record which helps the treating physician access this data, supporting disease staging and treatment optimization.
Nikos Moschos, Founder & Business Director of PD Neurotechnology said: "We are very proud of our multisensory approach and system architecture, which ensures that Parkinson's Disease symptoms are continuously monitored in a user-friendly manner, enabling prompt support and treatment optimization. Our goal has always been to develop innovative and non-invasive solutions to help patients feel safer, and forge a close and effective doctor-patient relationship. Our plans for the future are substantial, we are constantly looking for new sources of growth and we always seek to diversify and enhance the solutions we provide."
—
Ionuț Pătrăhău, Managing Director & Corporate Development at SeedBlink said: "It is important that we back MedTech innovators, as they not only impact the economy, but they improve people's lives. We need to strengthen their ability to provide efficient solutions. Meaningful innovation makes our investment all the more meaningful. We are enthusiastic about PD Neurotechnology's products and are keen to support their growth."