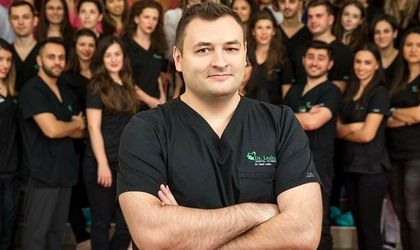 Dr. Leahu Dental Clinics Network, together with Morphosis Capital, announces a new Advisory Board consisting of four of the most qualified professionals in the Romanian business market: Fady Chreih – CEO of Regina Maria Health Network, Andreea Pipernea – CEO of NN Pensii, Marius Ștefan – CEO of Autonom and Radu Georgescu, founder of GECAD Ventures. The new team of consultants will assist the company in the process of reaching its business objectives.
"Our main objective continues to revolve around providing access to dental services for everybody in need and also to reinforce the right to choose  the right treatment and medical team, which is a legal obligation, not just a moral one, of the healthcare system. Thus, in order to reach this goal as quickly as possible, we have chosen a team of strong leaders, with relevant experience in business and thorough training in management, with whom we can reform the quality of life in Romania", said Doctor Ionuț Leahu, founder of Dr. Leahu Dental Clinics Network.
He believes that in order to be able to succesfully attain this objective, a strong, stable company is needed, which can become the patient's voice when he or she does is not heard by the system. The new Advisory Board will focus on achieving the business goals of the network for the next five years, which include expanding it to a total of 36 dental centers, 100,000 patients treated per year, achieving a turnover of over 50 million euros and listing teh company on the main segment of the Bucharest Stock Exchange. The four consultants will therefore help the company consolidate efficient management practices, stay connected to the dynamics of the current economic context, anticipate relevant trends and identify new strategic roles.
The network's medical teams are currently treating patients in nine Romanian cities (Ploiesti, Bucharest, Pitesti, Timisoara, Turda, Constanta, Oradea, Iasi and Sibiu) and since last year in also London, the company's first medical unit opened abroad. The company reached a turnover of 59.2 million lei in 2020, by 18% more than the previous year, according to the consolidated preliminary financial results.
"Integrating an Advisory Board in the company is a sign of business maturity, proven specialy by the will to create a dialogue with experts from other various industries and reeach aut for their advice. The common denominator of this group of selected advisors is the trust in this company's vision and determination to fight for a better future" Andrei Gemeneanu, Managing Partner of Morphosis Capital, explains.
Fady Chreih has been leading the Regina Maria Health Network since 2013, having previously held the position of Executive Director. He studied at Harvard, Stanford University and London Business School and recently graduated from the International Directors Program at INSEAD. In recent years, he has become increasingly involved in promoting equitable access to quality education, being a member of the Board for Teach for Romania and United Way Romania.
Andreea Pipernea is the CEO of NN Pensii since 2017 and the vice-president of the Association for Privately Managed Pensions in Romania. She graduated from EMBA at ASEBUSS / Kennesaw State University, has a degree in risk management from Georgetown University and this year obtained certification as an Independent Director from Henley Business School. She has over 20 years of experience in banking, asset management and capital markets.
Marius Ștefan is the CEO of Autonom, the most extensive mobility network in Romania. He supports education and entrepreneurship, being part of the board of several organizations such as Teach for Romania, Romanian Business Leaders, YPO Romania, Endeavor and The Entrepreneurship Academy, but also of various companies, such as OMV Petrom. Through the Autonom Foundation, he supports educational projects dedicated to communities.
Radu Georgescu launched GECAD Software in 1992, which later became the venture capital company GECAD Ventures and also marked an important transaction by selling the current company PayU Romania to the South African group Naspers. Last year, he became a partner and board member of Seedblink, the largest equity crowdfunding platform in the region.